We got the administration's attention — we need everyone's participation to keep it!
First, a clear majority of NYU contract faculty signed cards saying they want a union.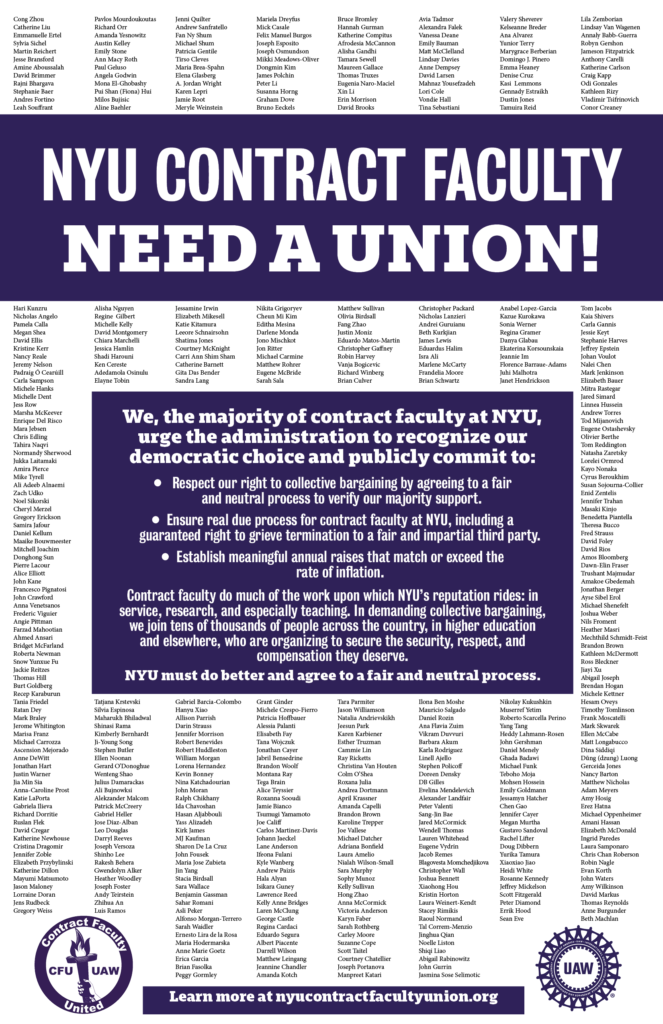 Then, over 500 of us — again, over half — signed their names to a petition telling Andy Hamilton that we need raises, job security, and for the administration to respect our right to collective bargaining.
Then, last week, we gathered with supporters from around the campus and the city to tell him even louder: We deserve a fair and expeditious process to recognize our union.
Andy finally heard us and responded. Yesterday we received a letter from him in which he promised a meeting to "consider ways in which we might move forward." 
But a promise of a meeting isn't the fair process we need — it isn't even yet a meeting! When we come back from Spring Break, we'll be making sure that the administration hears us loud and clear. We have to make sure that the administration continues to hear us, and we still need a fair process by which the administration will recognize our union.
Here's what you can do: Starting March 20, wear your union button every day for a week. Let your colleagues and students see that you're proud to be part of Contract Faculty United.
Then on Thursday, March 23, from 2-4, we'll be outside Bobst Library to make sure the administration hears, understands, and recognizes our demand for a fair and expeditious process. Click here to commit to coming to the informational picket!
And on Friday, March 24, from 11:30-1, we'll be joining with our union siblings from across the city to remember the martyrs of the Triangle Shirtwaist Factory Fire, and one of us will be speaking about working in the building where it happened. Click here to commit to standing with the New York labor movement as they continue to stand with us.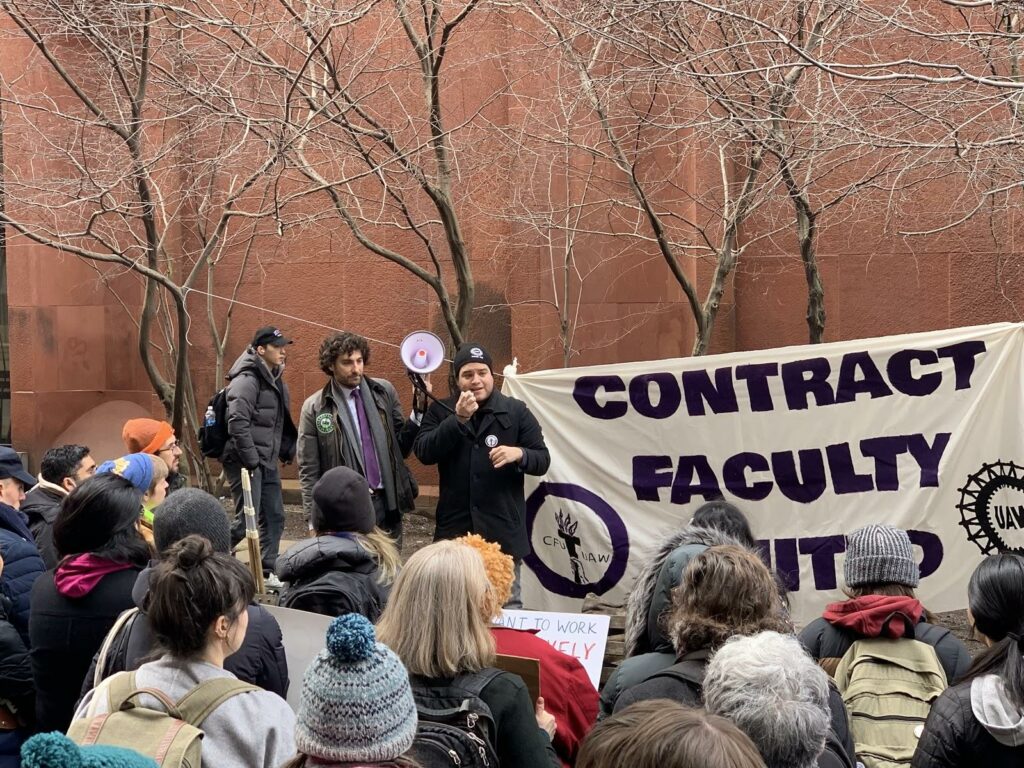 Last week we invited Brandon Mancilla, the elected representative to the UAW International Executive Board from our region, to our rally. He told us that the 400,000 members of the UAW — including the quarter of them who are academic workers — across the country have our back. Oddly, Andy chose to address his letter to Brandon, rather than any of the more than 500 contract faculty who signed the petition. Maybe Andy thought that by writing to Brandon, he'd circumvent us, the faculty who make NYU's mission possible. But neither Brandon nor any of us are going to let Andy do this. 
We — all of us — are our union. A union isn't an organization we hire — it's an organization we build with our colleagues. The more people we have involved, the more power we have to win a union contract. Come to Bobst Library on Thursday, March 23, to show Andy that the union is us. The more people we have on Thursday, the faster we'll win a union and a contract.