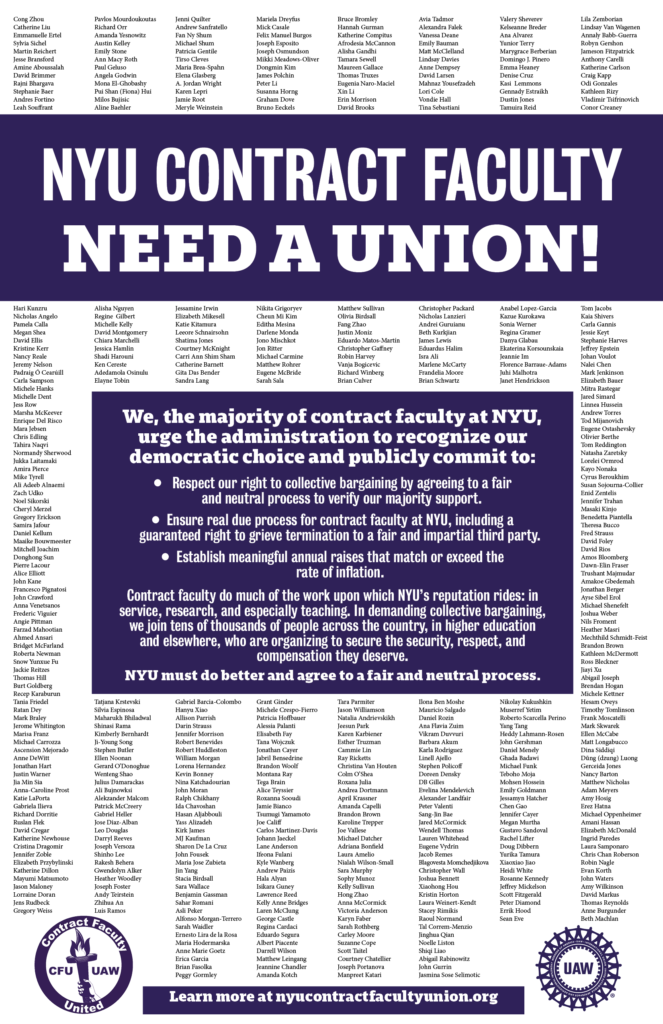 We, the majority of contract faculty at NYU, urge the administration to recognize our democratic choice and publicly commit to:
respect our right to collective bargaining by agreeing to a fair and neutral process to verify our majority support
Ensure real due process for contract faculty at NYU, including a guaranteed right to grieve termination to a fair and impartial third party.
Establish meaningful annual raises that match or exceed the rate of inflation.
Contract faculty do much of the work upon which NYU's reputation rides: in service, research, and especially teaching. In demanding collective bargaining, we join tens of thousands of people across the country, in higher education and elsewhere, who are organizing to secure the security, respect, and compensation they deserve.
NYU must do better and agree to a fair and neutral process.
Signed,
Ali Adeeb Alnaemi, Clinical Assistant Professor, Middle Eastern and Islamic Studies
Linell Ajello, Clinical Assistant Professor, Expository Writing Program
Barbara Akum, Clinical Assistant Professor, Biology
Isra Ali, Clinical Assistant Professor, Media, Culture, and Communication
Yass Alizadeh, Clinical Assistant Professor, Middle Eastern and Islamic Studies
Hasan Aljabbouli, Clinical Assistant Professor, Courant, Computer Science
Gwendolyn Alker, Distinguished Teacher, Drama
Ana Alvarez, Clinical Assistant Professor, Center for Latin American & Caribbean Studies
Hala Alyan, Clinical Assistant Professor, Applied Psychology
Laura Amelio, Clinical Associate Professor, Spanish & Portuguese Language and Literature
Zhihua An, Clinical Associate Professor, Chemistry
Lane Anderson, Clinical Associate Professor, Expository Writing Program
Victoria Anderson, Clinical Associate Professor, Expository Writing Program
Natalia Andrievskikh, Clinical Assistant Professor, Expository Writing Program
Nicholas Angelo, Clinical Assistant Professor, Chemistry
Ahmed Ansari, Industry Assistant Professor, Integrated Digital Media
Annaly Babb-Guerra, Clinical Assistant Professor, Teaching and Learning
Ghada Badawi, Clinical Assistant Professor, Middle Eastern and Islamic Studies
Sang-Jin Bae, Teacher, Undergraduate Film & TV
Aline Baehler, Clinical Associate Professor, French
Stephanie Baer, Music Assistant Professor, Music & Performing Arts Professions
Gabriel Barcia-Colombo, Teacher, ITP
Catherine Barnett, Clinical Associate Professor, Creative Writing
Florence Barraue-Adams, Assistant Arts Professor, Undergrad Film & TV (joint: Open Arts)
Nancy Barton, Clinical Associate Professor, Art and Art Professions
Elizabeth Bauer, Clinical Assistant Professor, Psychology
Emily Bauman, Clinical Assistant Professor, Writing
Rakesh Behera, Industry Assistant Professor, Mechanical and Aerospace Engineering
Ilona Ben Moshe, Clinical Assistant Professor, Hebrew and Judaic Studies
Robert Benevides, Distinguished Teacher, Undergraduate Film & TV
Joshua Bennett, Industry Associate Professor, Chemical and Biomolecular Engineering
Jabril Bensedrine, Industry Associate Professor, Technology Management and Innovation
Marygrace Berberian, Clinical Assistant Professor, Art and Art Professions
Jonathan Berger, Clinical Assistant Professor, Art and Art Professions
Kimberly Bernhardt, Clinical Associate Professor, Expository Writing Program
Cyrus Beroukhim, Music Associate Professor, Music & Performing Arts Professions
Olivier Berthe, Clinical Associate Professor, French
Rajni Bhargava, Clinical Assistant Professor, Middle Eastern and Islamic Studies
Maharukh Bhiladwal, Clinical Associate Professor, Economics
Jamie Bianco, Clinical Assistant Professor, Media, Culture, and Communication
Stacia Birdsall, Clinical Assistant Professor, Nursing
Olivia Birdsall, Clinical Associate Professor, Expository Writing Program
Ross Bleckner, Clinical Associate Professor, Art and Art Professions
Amos Bloomberg, Clinical Assistant Professor, Courant, Computer Science
Vanja Bogicevic, Clinical Assistant Professor, J.M. Tisch Center of Hospitality
Adriana Bonfield, Clinical Associate Professor, Italian Studies
Kevin Bonney, Clinical Assistant Professor, Science, Liberal Studies
Maaike Bouwmeester, Clinical Assistant Professor, Administration, Leadership, and Technology
Tega Brain, Industry Assistant Professor, Technology, Culture, and Society
Mark Braley, Clinical Associate Professor, Expository Writing Program
Jesse Bransford, Clinical Associate Professor, Art and Art Professions
Maria Brea, Clinical Associate Professor, Communicative Sciences and Disorders
Kelseanne Breder, Clinical Assistant Professor, Nursing
Kelly Anne Bridges, Clinical Assistant Professor, Communicative Sciences and Disorders
David Brimmer, Teacher, Drama
Bruce Bromley, Clinical Associate Professor, Expository Writing Program
David Brooks, Clinical Assistant Professor, Gallatin
Brandon Brown, Clinical Assistant Professor, P.R. Tisch Institute for Global Sport
Theresa Bucco, Clinical Assistant Professor, Nursing
Milos Bujisic, Clinical Associate Professor, Marketing and Public Relations
Ali Bujnowksi, Clinical Associate Professor, Expository Writing Program
Felix Manuel Burgos, Clinical Associate Professor, Spanish & Portuguese Language and Literature
Anne Burgunder, Clinical Assistant Professor, Teaching and Learning
Stephen Butler, Clinical Associate Professor, Expository Writing Program
Joe Califf, Clinical Assistant Professor, Expository Writing Program
Pamela Calla, Clinical Associate Professor, Center for Latin American & Caribbean Studies
Amanda Capelli, Clinical Assistant Professor, Expository Writing Program
Regina Cardaci, Clinical Assistant Professor, Nursing
Anthony Carelli, Clinical Associate Professor, Expository Writing Program
Katherine Carlson, Clinical Associate Professor, Expository Writing Program
Michael Carmine, Associate Arts Professor, Undergraduate Film & TV
Michael Carrozza, Clinical Associate Professor, Biology
Mick Casale, Associate Arts Professor, Graduate Film: Screenwriting
George Castle, Clinical Assistant Professor, Communicative Sciences and Disorders
Jonathan Cayer, Clinical Assistant Professor, French
Jennifer Cayer, Clinical Associate Professor, Expository Writing Program
Ken Cereste, Clinical Assistant Professor, Courant: Mathematics – Tandon
Chris Chan Roberson, Distinguished Teacher, Undergraduate Film & TV
Jeannine Chandler, Clinical Assistant Professor, Global Cultures
Courtney Chatellier, Clinical Assistant Professor, Expository Writing Program
Ida Chavoshan, Clinical Assistant Professor, Writing
Nalei Chen, Clinical Assistant Professor, Liberal Studies
Ralph Chikhany, Clinical Assistant Professor, Courant, Computer Science
Tirso Cleves, Clinical Associate Professor, Spanish & Portuguese Language and Literature
Lori Cole, Clinical Assistant Professor, Center for Experimental Humanities
Katherine Compitus, Clinical Assistant Professor, Social Work
Suzanne Cope, Clinical Assistant Professor, Expository Writing Program
Tal Correm-Menzio, Clinical Assistant Professor, Liberal Studies
John Crawford, Teacher, Undergraduate Film & TV
Conor Creaney, Clinical Associate Professor, Expository Writing Program
David Cregar, Clinical Associate Professor, Expository Writing Program
Michele Crespo-Fierro, Clinical Assistant Professor, Nursing
Denise Cruz, Clinical Assistant Professor, Communicative Sciences and Disorders
Brian Culver, Clinical Assistant Professor, Cultural Foundations
Julius Damarackas, Clinical Assistant Professor, Courant: Mathematics
Gita Das Bender, Clinical Assistant Professor, Expository Writing Program
Michael Datcher, Clinical Assistant Professor, Liberal Studies
Lindsay Davies, Clinical Associate Professor, Cultural Foundations
Sharon De La Cruz, Assistant Arts Professor, ITP
Vanessa Deane, Clinical Assistant Professor, Public Service
Enrique Del Risco, Clinical Associate Professor, Spanish & Portuguese Language and Literature
Anne Dempsey, Clinical Assistant Professor, Social Work
Doreen Densky, Clinical Assistant Professor, German
Michelle Dent, Clinical Associate Professor, Expository Writing Program
Anne DeWitt, Clinical Assistant Professor, Gallatin
Ratan Dey, Industry Assistant Professor, Computer Science and Engineering
Peter Diamond, Clinical Associate Professor, Social Foundations
Jose Diaz-Alban, Clinical Assistant Professor, Courant: Mathematics – Tandon
Doug Dibbern, Clinical Associate Professor, Expository Writing Program
Katherine Dillon, Arts Professor, ITP
Lorraine Doran, Clinical Associate Professor, Expository Writing Program
Richard Dorritie, Clinical Assistant Professor, Nursing
Andrea Dortmann, Clinical Associate Professor, German
Leo Douglas, Clinical Assistant Professor, Science, Liberal Studies
Graham Dove, Industry Assistant Professor, Technology Management and Innovation
Cristina Dragomir, Clinical Assistant Professor, Liberal Studies
Mariela Dreyfus, Clinical Professor, Spanish & Portuguese Language and Literature
Vikram Duvvuri, Lecturer, Applied Physics
Chris Edling, Clinical Assistant Professor, Expository Writing Program
Bruno Eeckels, Clinical Assistant Professor, J.M. Tisch Center of Hospitality
Mona El-Ghobashy, Clinical Assistant Professor, Social Foundations
Alice Elliott, Distinguished Teacher, Undergraduate Film & TV
David Ellis, Clinical Associate Professor, Expository Writing Program
Kathy Engel, Associate Arts Professor, Art & Public Policy
Jeffrey Epstein, Industry Associate Professor, Computer Science and Engineering
Gregory Erickson, Clinical Associate Professor, Gallatin
Ayse Sibel Erol, Clinical Professor, Middle Eastern and Islamic Studies
Emmanuelle Ertel, Clinical Associate Professor, French
Silvia Espinosa, Arts Professor, Courant: Mathematics
Joseph Esposito, Clinical Assistant Professor, Courant: Mathematics – Tandon
Gennady Estraikh, Clinical Professor, Hebrew and Judaic Studies
Sean Eve, Clinical Assistant Professor, Writing
Karyn Faber, Clinical Assistant Professor, Global Public Health
Alexandra Falek, Clinical Associate Professor, Expository Writing Program
Brian Fasolka, Clinical Assistant Professor, Nursing
Elisabeth Fay, Clinical Assistant Professor, Expository Writing Program
Scott Fitzgerald, Industry Assistant Professor, Technology, Culture, and Society
Jameson Fitzpatrick, Clinical Assistant Professor, Expository Writing Program
Ruslan Flek, Clinical Assistant Professor, Courant: Mathematics
David Foley, Clinical Associate Professor, Expository Writing Program
Andres Fortino, Clinical Assistant Professor, Project Management & Information Technology
Joseph Foster, Clinical Assistant Professor, Courant: Mathematics
John Fousek, Clinical Associate Professor, International Relations
Marisa Franz, Clinical Assistant Professor, Museum Studies
Dawn-Elin Fraser, Assistant Arts Professor, Drama
Tania Friedel, Clinical Associate Professor, Expository Writing Program
Nils Froment, Clinical Associate Professor, French
Ifeona Fulani, Clinical Professor, Writing & Global Cultures
Michael Funk, Clinical Assistant Professor, Administration, Leadership, and Technology
Christopher Gaffney, Clinical Assistant Professor, J.M. Tisch Center of Hospitality
Maureen Gallace, Clinical Associate Professor, Art and Art Professions
Alisha Gandhi, Clinical Assistant Professor, Communicative Sciences and Disorders
Carla Gannis, Industry Professor, Integrated Digital Media
Chen Gao, Clinical Associate Professor, East Asian Studies
Erica Garcia, Clinical Assistant Professor, Teaching and Learning
Benjamin Gassman, Clinical Associate Professor, Expository Writing Program
Amakoe Gbedemah, Lecturer, Courant: Mathematics – Tandon
Paul Geluso, Music Assistant Professor, Music & Performing Arts Professions
Patricia Gentile, Clinical Assistant Professor, Occupational Therapy
John Gershman, Clinical Professor, Public Service
Robyn Gershon, Clinical Professor, Global Public Health
Regine  Gilbert, Clinical Assistant Professor , Technology, Culture, and Society
DB Gilles, Teacher, Undergraduate Film & TV
Grant Ginder, Clinical Associate Professor, Expository Writing Program
Danya Glabau, Industry Asssistant Professor, Technology, Culture, and Society
Elena Glasberg, Clinical Associate Professor, Expository Writing Program
Angela Godwin, Clinical Assistant Professor, Nursing
Anne Marie Goetz, Clinical Professor, Center for Global Affairs
Burt Goldberg, Clinical Professor, Chemistry
Emily Goldmann, Clinical Assistant Professor, Global Public Health
Odi Gonzales, Clinical Assistant Professor, Spanish & Portuguese Language and Literature
Peggy Gormley, Distinguished Teacher, Undergraduate Film & TV
Regina Gramer, Clinical Associate Professor, Social Foundations
Nikita Grigoryev, Industry Assistant Professor, Chemical and Biomolecular Engineering
Isikara Guney, Clinical Assistant Professor, Economics, Liberal Studies
Hannah Gurman, Clinical Associate Professor, Gallatin
John Gurrin, Teacher, Undergraduate Film & TV
Andrei Guruianu, Clinical Associate Professor, Expository Writing Program
Eduardus Halim, Music Assistant Professor, Music & Performing Arts Professions
Vondie Hall, Arts Professor, Undergraduate Film & TV
Jessica Hamlin, Clinical Assistant Professor, Art and Art Professions
Michele Hanks, Clinical Assistant Professor, Expository Writing Program
Shadi Harouni, Clinical Assistant Professor , Art and Art Professions
Jonathan Hart, Assistant Arts Professor, Drama
Stephanie Harves, Clinical Associate Professor, Linguistics
Robin Harvey, Clinical Assistant Professor, Teaching and Learning
Amani Hassan, Clinical Associate Professor, Middle Eastern and Islamic Studies
Jessamyn Hatcher, Clinical Professor, Cultural Foundations
Erez Hatna, Clinical Associate Professor, Global Public Health
Emma Heaney, Clinical Assistant Professor, Center for Experimental Humanities
Dianna Heldman, Music Associate Professor, Music and Performing Arts Professions
Gabriel Heller, Clinical Associate Professor, Expository Writing Program
Janet Hendrickson, Clinical Assistant Professor, Liberal Studies
Lorena Hernandez, Clinical Assistant Professor, Spanish & Portuguese Language and Literature
Thomas Hill, Clinical Associate Professor, Center for Global Affairs
Maria Hodermarska, Clinical Assistant Professor, Music & Performing Arts Professions
Patricia Hoffbauer, Assistant Arts Professor, Open Arts
Brendan Hogan, Clinical Associate Professor, Cultural Foundations
Errik Hood, Music Professor, Music & Performing Arts Professions
Susanna Horng, Clinical Associate Professor, Writing
Kristin Horton, Associate Professor of Practice, Gallatin
Amy Hosig, Clinical Associate Professor, Expository Writing Program
Mohsen Hossein, Industry Professor, Civil and Urban Engineering
Xiaohong Hou, Clinical Associate Professor, East Asian Studies
Robert Huddleston, Clinical Associate Professor, Expository Writing Program
Pui Shan (Fiona) Hui, Clinical Assistant Professor, Social and Cultural Analysis
Linnea Hussein, Clinical Assistant Professor, Liberal Studies
Gabriela Ilieva, Clinical Professor, MEIS
Jeannie Im, Clinical Associate Professor, Expository Writing Program
Jessamine Irwin, Clinical Assistant Professor, French
Tom Jacobs, Clinical Associate Professor, Expository Writing Program
Johann Jaeckel, Clinical Assistant Professor, Economics, Liberal Studies
Samira Jafour, Clinical Associate Professor, French
Kirk James, Clinical Assistant Professor, Social Work
Mara Jebsen, Clinical Associate Professor, Expository Writing Program
Mark Jenkinson, Teacher, Photography & Imaging
Xiaoxiao Jiao, Clinical Assistant Professor, East Asian Studies
Mitchell Joachim, Associate Professor of Practice, Gallatin
Gerceida Jones, Clinical Associate Professor, Science, Liberal Studies
Dustin Jones, Clinical Associate Professor, Schack Institute of Real Estate
Shatima Jones, Clinical Assistant Professor, Gallatin
Abigail Joseph, Clinical Associate Professor, Expository Writing Program
Roxana Julia, Clinical Assistant Professor, Economics, Liberal Studies
John Kane, Clinical Assistant Professor, Center for Global Affairs
Craig Kapp, Clinical Associate Professor, Courant, Computer Science
Recep Karaburun, Clinical Assistant Professor, J.M. Tisch Center of Hospitality
Karen Karbiener, Clinical Professor, Cultural Foundations
Manpreet Katari, Clinical Associate Professor, Biology
Nina Katchadourian, Clinical Associate Professor, Gallatin
MJ Kaufman, Assistant Arts Professor, Department of Dramatic Writing
Austin Kelley, Clinical Associate Professor, Expository Writing Program
Daniel Kellum, Clinical Associate Professor, Expository Writing Program
Michelle Kelly, Clinical Assistant Professor, Expository Writing Program
Rosanne Kennedy, Clinical Assistant Professor, Gallatin
Kristine Kerr, Clinical Assistant Professor, Div. of Applied Undergraduate Studies
Michele Kettner, Senior Lecturer, Spanish & Portuguese Language and Literature
Jessie Keyt, Assistant Arts Professor, Dramatic Writing
Cheun Mi Kim, Clinical Assistant Professor, East Asian Studies
Dongmin Kim, Clinical Assistant Professor, East Asian Studies
Masaki Kinjo, Clinical Assistant Professor, East Asian Studies
Katie Kitamura, Unknown Unit Title, Creative Writing
Ekaterina Korsounskaia, Clinical Assistant Professor, Russian and Slavic Studies
Evan Korth, Clinical Professor, Courant, Computer Science
Amanda Kotch, Clinical Assistant Professor, Expository Writing Program
April Krassner, Clinical Associate Professor, Div. of Applied Undergraduate Studies
Tatjana Krstevski, Assistant Arts Professor, Graduate Film: Cinematography
Nikolay Kukushkin, Clinical Assistant Professor, Science, Liberal Studies
Hari Kunzru, Clinical Professor, Creative Writing
Beth Kurkjian, Clinical Associate Professor, Expository Writing Program
Kazue Kurokawa, Clinical Associate Professor, East Asian Studies
Pierre Lacour, Clinical Associate Professor, Div. of Applied Undergraduate Studies
Heddy Lahmann-Rosen, Clinical Assistant Professor, Applied Statistics, Social Sciences & Humanities
Jukka Laitamaki, Clinical Professor, J.M. Tisch Center of Hospitality
Alexander Landfair, Clinical Assistant Professor, Expository Writing Program
Sandra Lang, Clinical Associate Professor, Art and Art Professions
Nicholas Lanzieri, Clinical Assistant Professor, Social Work
Katie LaPorta, Clinical Assistant Professor, French
David Larsen, Clinical Associate Professor, Cultural Foundations
Shinho Lee, Assistant Arts Professor, Dramatic Writing
Matthew Leingang, Clinical Professor, Courant, Mathematics
Kasi  Lemmons, Arts Professor, Film and TV
Karen Lepri, Clinical Assistant Professor, Expository Writing Program
James Lewis, Lecturer, Technology, Culture, and Society
Peter Li, Industry Assistant Professor, General Engineering
Xin Li, Clinical Assistant Professor, East Asian Studies
Shiqi Liao, Clinical Associate Professor, East Asian Studies
Rachel Lifter, Clinical Assistant Professor, Art and Art Professions
Cammie Lin, Clinical Assistant Professor, Writing
Ernesto Lira de la Rosa, Clinical Assistant Professor, Applied Psychology
Noelle Liston, Clinical Associate Professor, Expository Writing Program
Catherine Liu, Clinical Assistant Professor, East Asian Studies
Matt Longabucco, Clinical Associate Professor, Writing
Anabel Lopez-Garcia, Clinical Associate Professor, Spanish & Portuguese Language and Literature
Dũng (dzung) Luong, Industry Assistant Professor, Mechanical and Aerospace Engineering
Beth Machlan, Clinical Associate Professor, Expository Writing Program
Farzad Mahootian, Clinical Associate Professor, Social Foundations
Trushant Majmudar, Clinical Assistant Professor, Courant, Mathematics
Alekzander Malcom, Clinical Associate Professor, Courant: Mathematics – Tandon
Juhi Malhotra, Clinical Instructor, Social Work
Jason Maloney, Clinical Associate Professor, Journalism
Chiara Marchelli, Clinical Assistant Professor, Italian Studies
David Markus, Clinical Assistant Professor, Expository Writing Program
Carlos Martinez-Davis, Clinical Associate Professor, Spanish & Portuguese Language and Literature
Heather Masri, Clinical Professor, Cultural Foundations
Eduardo Matos-Martín, Clinical Assistant Professor, Arts & Cultures
Mayumi Matsumoto, Clinical Assistant Professor, East Asian Studies
Eugene McBride, Clinical Professor, Social Foundations
Ellen McCabe, Clinical Assistant Professor, Nursing
Afrodesia McCannon, Clinical Assistant Professor, Cultural Foundations
Marlene McCarty, Clinical Associate Professor, Art and Art Professions
Matt McClelland, Clinical Associate Professor, Expository Writing Program
Laren McClung, Cinical Assistant Professor, Expository Writing – Tandon
Jared McCormick, Clinical Associate Professor, Near Eastern Studies
Anna McCormick, Librarian for Archival Arrangement and Description, Archival Collections Management
Patrick McCreery, Clinical Assistant Professor, Gallatin School of Individualized Study
Kathleen McDermott, Industry Assistant Professor, Integrated Digital Media
Elizabeth McDonald, Clinical Assistant Professor, Teaching and Learning
Bridget McFarland, Clinical Assistant Professor, Expository Writing Program
Marsha McKeever, Distinguished Teacher, Undergraduate Film & TV
Courtney McKnight, Clinical Assistant Professor, Global Public Health
Mikki Meadows-Oliver, Clinical Professor, Nursing
Ascension Mejorado, Clinical Professor, Economics, Liberal Studies
Evelina Mendelevich, Clinical Assistant Professor, Russian and Slavic Studies
Daniel Menely, Clinical Associate Professor, Expository Writing Program
Cheryl Merzel, Clinical Associate Professor, Global Public Health
Editha Mesina, Assistant Arts Professor, Photography & Imaging
Adam Meyers, Clinical Associate Professor, Courant, Computer Science
Jeffrey Mickelson, Clinical Associate Professor, Expository Writing Program
Tod Mijanovich, Research Associate Professor, Applied Statistics, Social Sciences & Humanities
Elizabeth Mikesell, Clinical Associate Professor, Expository Writing Program
Jono Mischkot, Clinical Assistant Professor, Expository Writing Program
Teboho Moja, Clinical Professor, Administration, Leadership, and Technology
Blagovesta Momchedjikova, Clinical Associate Professor, Expository Writing Program
Darlene Monda, Clinical Assistant Professor, Communicative Sciences and Disorders
Justin Moniz, Assistant Professor of Music, Music & Performing Arts Professions
David Montgomery, Clinical Assistant Professor, Music & Performing Arts Professions
Carley Moore, Clinical Professor, Writing
Frandelia Moore, Clinical Assistant Professor, Applied Psychology
John Moran, Clinical Associate Professor, French
William Morgan, Clinical Professor, Expository Writing Program
Alfonso Morgan-Terrero, Associate Arts Professor, Undergraduate Film & TV
Erin Morrison, Clinical Assistant Professor, Science, Liberal Studies
Jennifer Morrison, Clinical Assistant Professor, Nursing
Frank Moscatelli, Clinical Professor, Physics
Pavlos Mourdoukoutas, Industry Professor, Technology Management and Innovation
Sophy Munoz, Clinical Associate Professor, Spanish & Portuguese Language and Literature
Sara Murphy, Clinical Associate Professor, Gallatin
Megan Murtha, Clinical Assistant Professor, Expository Writing Program
Robin Nagle, Clinical Professor, Social Foundations & Environmental Science
Tahira Naqvi, Clinical Associate Professor, Middle Eastern and Islamic Studies
Eugenia Naro-Maciel, Clinical Associate Professor, Science, Liberal Studies
Jeremy Nelson, Associate Arts Professor, Dance
Noreen Nelson, Clinical Assistant Professor, Nursing
Katherine Newhouse, Clinical Assistant Professor, Teaching and Learning
Roberta Newman, Clinical Professor, Cultural Foundations
Alisha Nguyen, Clinical Assistant Professor, Teaching and Learning
Matthew Nicholas, Clinical Associate Professor, Expository Writing Program
Kayo Nonaka, Clinical Associate Professor, East Asian Studies
Ellen Noonan, Clinical Assistant Professor, Archives and Public History
Raoul Normand, Clinical Assistant Professor, Courant, Mathematics
Padraig Ó Cearúill, Senior Lecturer, Irish Studies
Gerard O'Donoghue, Clinical Associate Professor, Expository Writing Program
Sharon O'Neill, Clinical Associate Professor, Graduate Nursing
Colm O'Shea, Clinical Associate Professor, Expository Writing Program
Michael Oppenheimer, Clinical Professor, Center for Global Affairs
Lorelei Ormrod, Clinical Associate Professor, Expository Writing Program
Richard Orr, Clinical Assistant Professor, Chemistry
Adedamola Osinulu, Clinical Assistant Professor, Social Foundations
Joseph Osmundson, Clinical Assistant Professor, Biology
Eugene Ostashevsky, Clinical Professor, Cultural Foundations
Hesam Oveys, Clinical Assistant Professor, Courant, Mathematics
Christopher Packard, Clinical Professor, Writing
Andrew Paizis, Clinical Associate Professor, Economics
Alessia Palanti, Clinical Assistant Professor, Expository Writing – Tandon
Ingrid Paredes, Industry Assistant Professor, General Engineering
Jeesun Park, Clinical Associate Professor, East Asian Studies
Tara Parmiter, Clinical Associate Professor, Expository Writing Program
Allison Parrish, Teacher, ITP
Asli Peker, Clinical Associate Professor, International Relations
Albert Piacente, Clinical Associate Professor, Social Foundations
Benedetta Piantella, Industry Assistant Professor, Technology, Culture, and Society
Amira Pierce, Clinical Associate Professor, Expository Writing Program
Francesco Pignatosi, Clinical Assistant Professor, Teaching and Learning
Domingo J. Pinero, Clinical Associate Professor, Nutrition and Food Studies
Angie Pittman, Assistant Arts Professor, Dance
James Polchin, Clinical Professor, Writing
Stephen Policoff, Clinical Professor, Global Cultures
Joseph Portanova, Clinical Assistant Professor, Social Foundations
Anna-Caroline Prost, Clinical Associate Professor, French
Elizabeth Przybylinski, Clinical Assistant Professor, Psychology
Jinghua Qian, Senior Lecturer, Courant: Mathematics – Tandon
Jenni Quilter, Clinical Assistant Professor, Expository Writing Program
Abigail Rabinowitz, Clinical Associate Professor, Expository Writing Program
Shinasi Rama, Clinical Professor, International Relations (joint: History)
Luis Ramos, Clinical Assistant Professor, Cultural Foundations
Mitra Rastegar, Clinical Assistant Professor, Social Foundations
Montana Ray, Clinical Assistant Professor, Writing
Nancy Reale, Clinical Professor, Cultural Foundations
Tom Reddington, Industry Professor, Computer Science and Engineering
Lawrence Reed, Clinical Assistant Professor, Psychology
Darryl Reeves, Industry Assistant Professor, Computer Science and Engineering
Martin Reichert, Clinical Assistant Professor, Cultural Foundations
Tamuira Reid, Clinical Assistant Professor, Writing
Jackie Reitzes, Clinical Associate Professor, Expository Writing Program
Jacob Remes, Clinical Assistant Professor, Gallatin
Thomas Reynolds, Clinical Assistant Professor, Cultural Foundations
Ray Ricketts, Clinical Associate Professor, Expository Writing Program
Stacey Rimikis, Clinical Assistant Professor, Communicative Sciences and Disorders
David Rios, Teacher, ITP
Jon Ritter, Clinical Associate Professor, Art History
Kathleen Rizy, Clinical Assistant Professor, French
Karla Rodriguez, Clinical Assistant Professor, Nursing
Matthew Rohrer, Clinical Professor, Creative Writing
Sahar Romani, Language Lecturer, Expository Writing Program
Jamie Root, Clinical Assistant Professor, French
Ann Macy Roth, Clinical Associate Professor, Art History, Hebrew and Judaic Studies
Sarah Rothberg, Assistant Arts Professor, ITP
Jess Row, Clinical Professor, English
Daniel Rozin, Arts Professor, ITP
Jens Rudbeck, Clinical Associate Professor, Center for Global Affairs
Sarah Sala, Clinical Assistant Professor, Expository Writing Program
Mauricio Salgado, Assistant Arts Professor, Drama
Laura Samponaro, Clinical Assistant Professor, Social Foundations
Carla Sampson, Clinical Associate Professor, Public Service
Gustavo Sandoval, Industry Professor, Computer Science and Engineering
Andrew Sanfratello, Clinical Assistant Professor, Courant: Mathematics
Roberto Scarcella Perino, Clinical Assistant Professor, Italian Studies
Mechthild Schmidt-Feist, Clinical Professor, Div. of Applied Undergraduate Studies
Leeore Schnairsohn, Clinical Associate Professor, Expository Writing Program
Brian Schwartz, Clinical Associate Professor, Expository Writing Program
Tina Sebastiani, Clinical Associate Professor, Italian Studies
Eduardo Segura, Clinical Associate Professor, Spanish & Portuguese Language and Literature
Tamara Sewell, Clinical Assistant Professor, Teaching and Learning
Wenteng Shao, Clinical Assistant Professor, East Asian Studies
Megan Shea, Clinical Associate Professor, Expository Writing Program
Michael Shenefelt, Clinical Professor, Social Foundations
Normandy Sherwood, Clinical Associate Professor, Expository Writing Program
Valery Sheverev, Industry Professor, Applied Physics
Carri Ann Shim Sham, Associate Arts Professor, Dance
Daniel Shiffman, Associate Arts Professor, ITP/IMA
Kaia Shivers, Clinical Assistant Professor, Writing
Michael Shum, Clinical Assistant Professor, Expository Writing Program
Fan Ny Shum, Clinical Assistant Professor, Courant, Mathematics
Jia Min Sia, Clinical Assistant Professor, Courant, Mathematics
Sylvia Sichel, Assistant Arts Professor, Undergraduate Film & TV
Dina Siddiqi, Clinical Associate Professor, Social Foundations
Noel Sikorski, Clinical Associate Professor, Expository Writing Program
Jared Simard, Clinical Assistant Professor, Cultural Foundations
Mark Skwarek, Lecturer, Technology, Culture, and Society
Susan Sojourna-Collier, Assistant Arts Professor, Undergraduate Film & TV
Ji-Young Song, Assistant Arts Professor, Game Center
Roxanna Sooudi, Clinical Associate Professor, Spanish & Portuguese Language and Literature
Jasmina Sose Selimotic, Clinical Assistant Professor, Psychology
Leah Souffrant, Clinical Assistant Professor, Expository Writing Program
Emily Stone, Clinical Associate Professor, Expository Writing Program
Darin Strauss, Clinical Professor, Creative Writing
Fred Strauss, Industry Associate Professor, Computer Science and Engineering
Matthew Sullivan, Music Assistant Professor, Music & Performing Arts Professions
Kelly Sullivan, Clinical Associate Professor, Irish Studies
Donghong Sun, Industry Associate Professor, Chemical and Biomolecular Engineering
Avia Tadmor, Language Lecturer, Expository Writing Program
Scott Taitel, Clinical Professor, Public Service
Yurika Tamura, Clinical Assistant Professor, Global Cultures
Yang Tang, Clinical Assistant Professor, Courant, Computer Science
Andy Teirstein, Arts Professor, Dance
Yunior Terry, Clinical Assistant Professor, Music
Alice Teyssier, Clinical Assistant Professor, Music
Wendell Thomas, Clinical Assistant Professor, Expository Writing – Tandon
Elayne Tobin, Clinical Assistant Professor, Writing
Timothy Tomlinson, Clinical Professor, Cultural Foundations
Andrew Torres, Clinical Assistant Professor, Teaching and Learning
Jennifer Trahan, Clinical Professor, Center for Global Affairs
Karoline Trepper, Clinical Assistant Professor, Teaching and Learning
Thomas Truxes, Clinical Professor, Irish Studies (joint: History)
Esther Truzman, Clinical Associate Professor, Spanish & Portuguese Language and Literature
Vladimir Tsifrinovich, Industry Professor, Applied Physics
Mike Tyrell, Clinical Associate Professor, Expository Writing Program
Zach Udko, Clinical Associate Professor, Expository Writing Program
Peter Valenti, Clinical Associate Professor, Social Foundations
Joe Vallese, Clinical Assistant Professor, Expository Writing Program
Christina Van Houten, Clinical Assistant Professor, Expository Writing Program
Lindsay Van Wagenen, Senior Lecturer, Courant: Mathematics – Tandon
Anna Venetsanos, Clinical Assistant Professor, Hellenic Studies
Joseph Versoza, Clinical Assistant Professor, Courant, Computer Science
Frederic Viguier, Clinical Associate Professor, French Studies
Johan Voulot, Clinical Associate Professor, French
Eugene Vydrin, Clinical Assistant Professor, Gallatin
Sarah Waidler, Lecturer, Irish Studies
Christopher Wall, Clinical Associate Professor, Expository Writing Program
Sara Wallace, Clinical Associate Professor, Expository Writing Program
Kyle Wanberg, Clinical Associate Professor, Cultural Foundations
Justin Warner, Clinical Assistant Professor, Expository Writing Program
John Waters, Clinical Assistant Professor, Irish Studies
Joshua Weber, Clinical Associate Professor, Expository Writing Program
Laura Weinert-Kendt, Clinical Associate Professor, Expository Writing Program
Meryle Weinstein, Assistant Research Professor, Applied Statistics, Social Sciences & Humanities
Gregory Weiss, Clinical Assistant Professor, Expository Writing Program
Sonia Werner, Clinical Assistant Professor, Center for Experimental Humanities
Heidi White, Clinical Professor, Social Foundations
Lauren Whitehead, Assistant Arts Professor, Drama
Jerome Whitington, Clinical Assistant Professor, Gallatin
Amy Wilkinson, Clinical Associate Professor, Writing
Jason Williamson, Clinical Assistant Professor, Liberal Studies
Darrell Wilson, Teacher, Undergraduate Film & TV
Nialah Wilson-Small, Industry Assistant Professor, Mechanical and Aerospace Engineering
Richard Winberg, Assistant Arts Professor, Dance
Tana Wojczuk, Clinical Assistant Professor, Expository Writing Program
Heather Woodley, Clinical Assistant Professor, Teaching and Learning
Brandon Woolf, Clinical Associate Professor, English
A. Jordan Wright, Clinical Assistant Professor, Applied Psychology
Hanyu Xiao, Clinical Assistant Professor, East Asian Studies
Jiayi Xu, Clinical Assistant Professor, East Asian Studies
Tsumugi Yamamoto, Clinical Assistant Professor, East Asian Studies
Jin Yang, Clinical Assistant Professor, J.M. Tisch Center of Hospitality
Amanda Yesnowitz, Clinical Associate Professor, Expository Writing Program
Muserref Yetim, Clinical Associate Professor, International Relations
Mahnaz Yousefzadeh, Clinical Professor, Cultural Foundations
Snow Yunxue Fu, Assistant Arts Professor, Department of Photography and Imaging
Natasha Zaretsky, Clinical Associate Professor, Expository Writing Program
Lila Zemborian, Clinical Professor, Spanish & Portuguese Language and Literature
Enid Zentelis, Assistant Arts Professor, Undergraduate Film & TV
Fang Zhao, Lecturer, Courant: Mathematics – Tandon
Hong Zhao, Clinical Assistant Professor, Chemistry
Cong Zhou, Clinical Assistant Professor, East Asian Studies
Jennifer Zoble, Clinical Assistant Professor, Writing
Maria Jose Zubieta, Clinical Associate Professor, Spanish & Portuguese Language and Literature
Ana Flavia Zuim, Research Associate Professor, Music & Performing Arts Professions