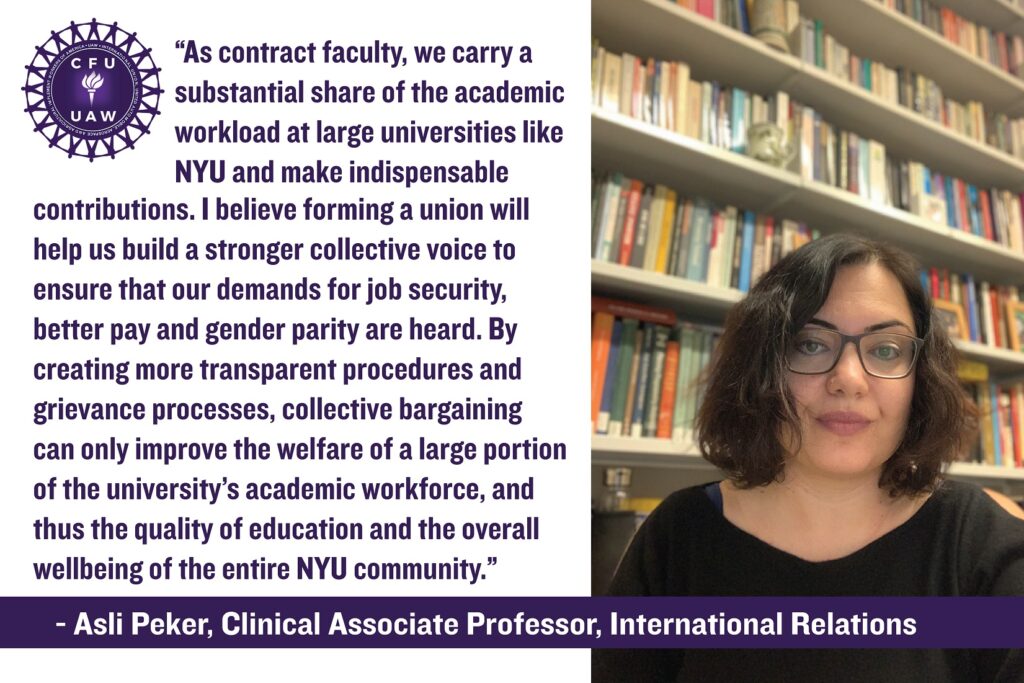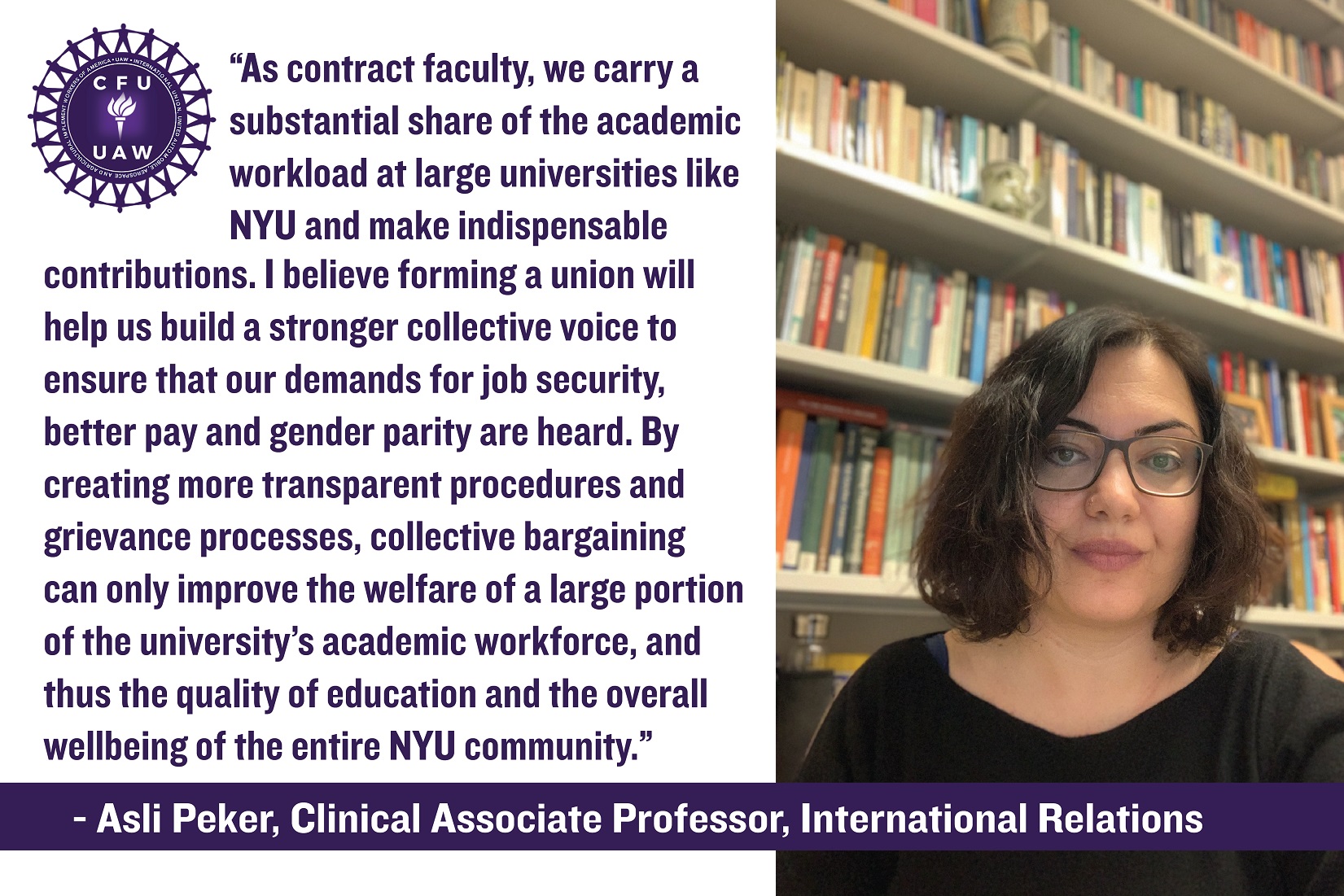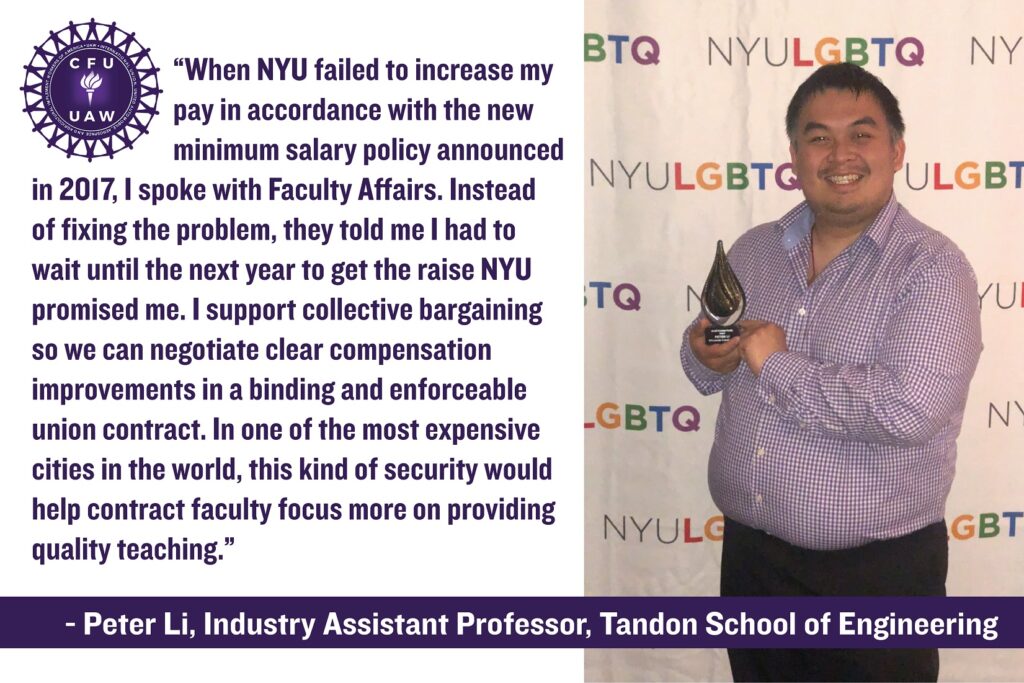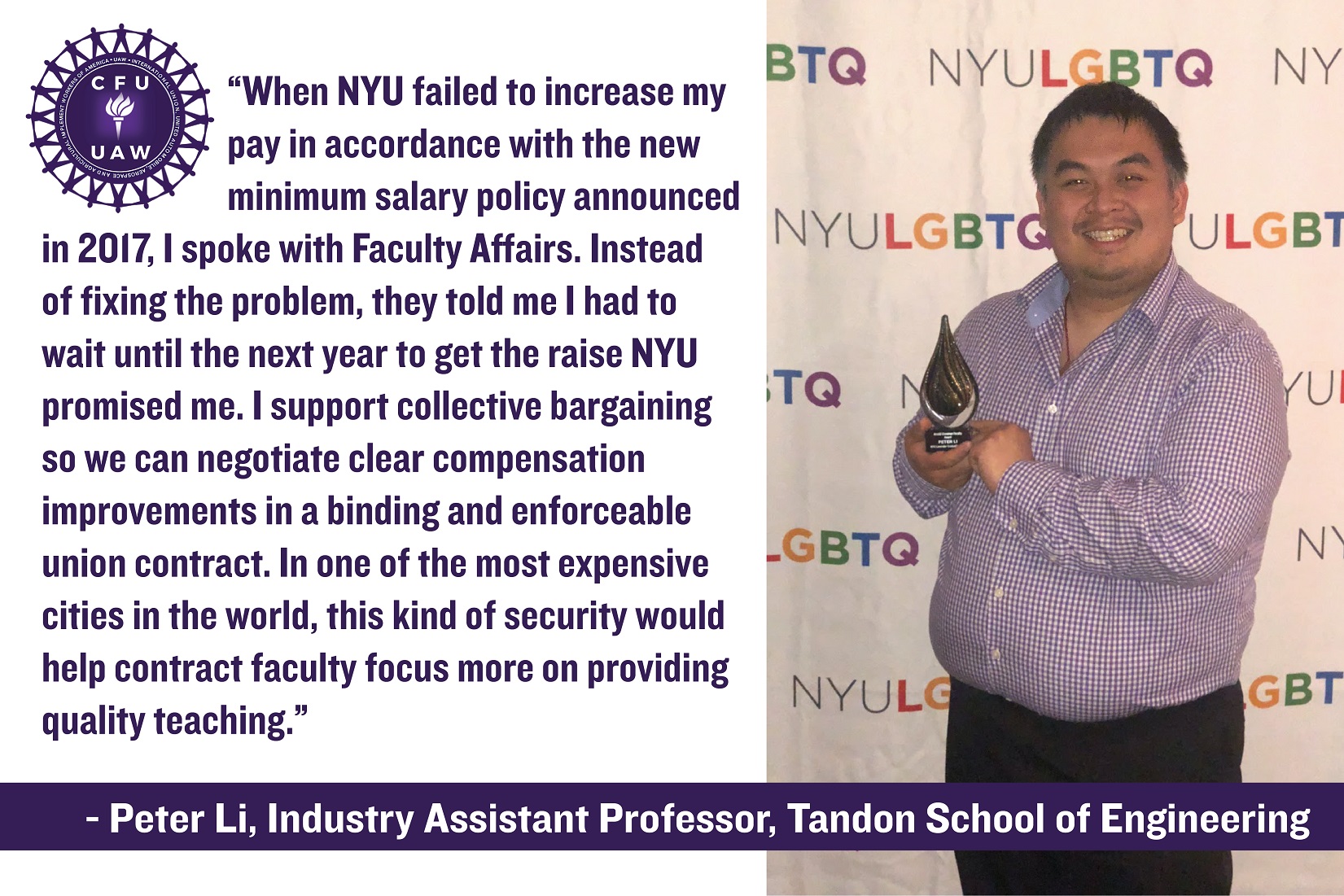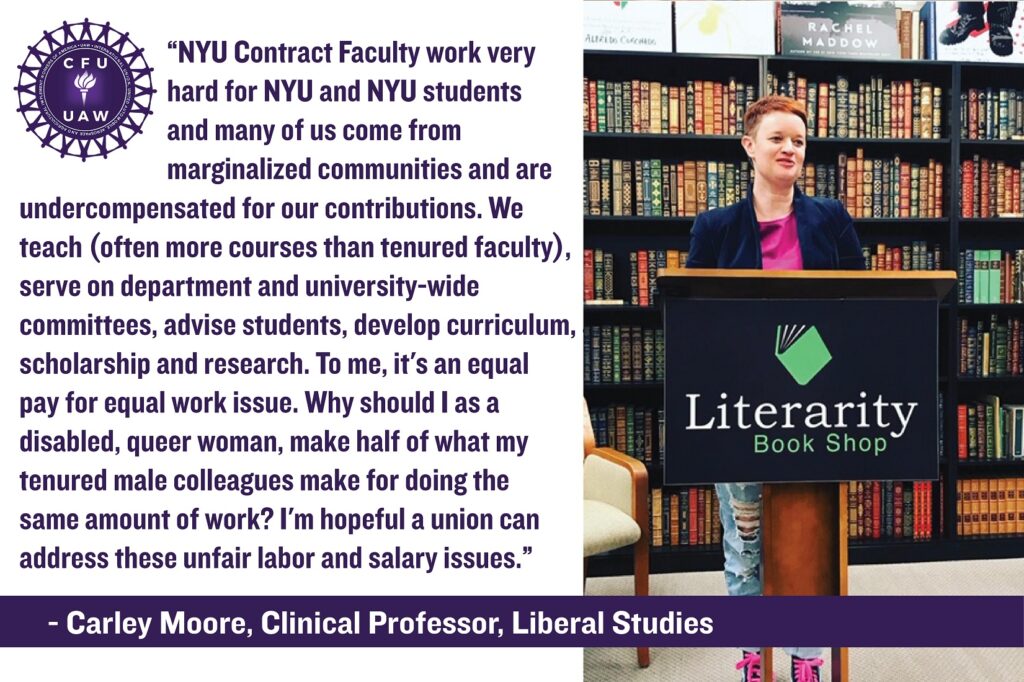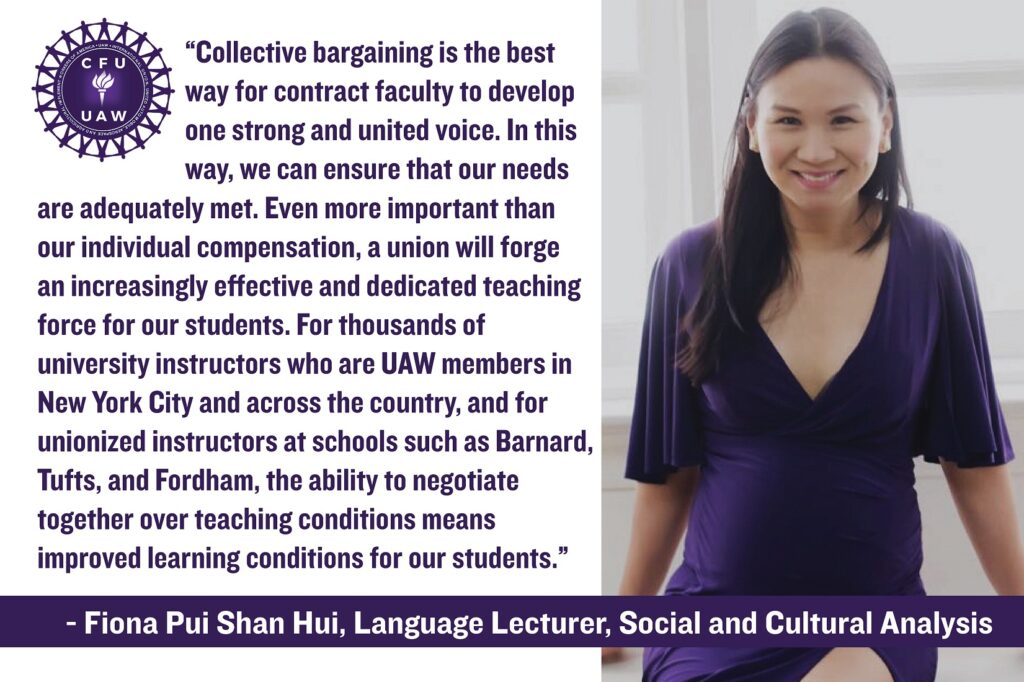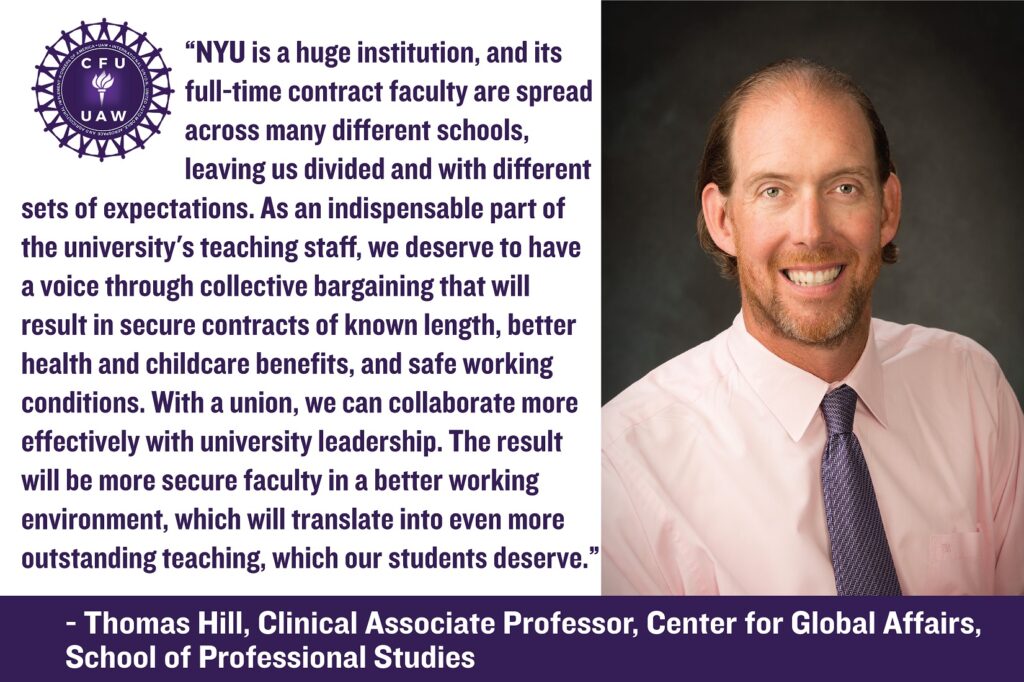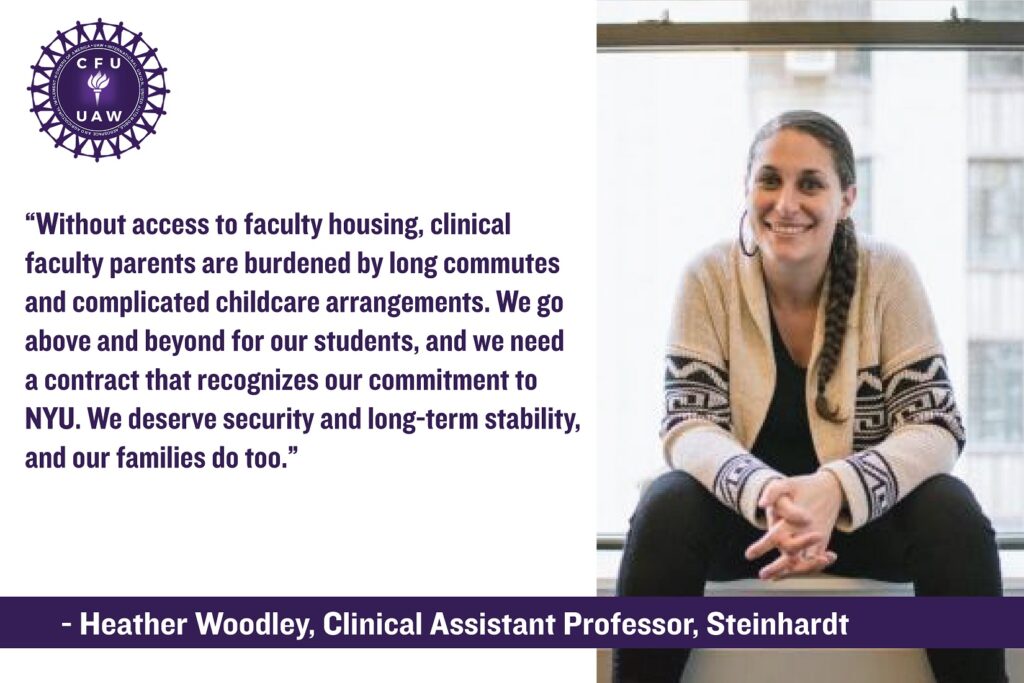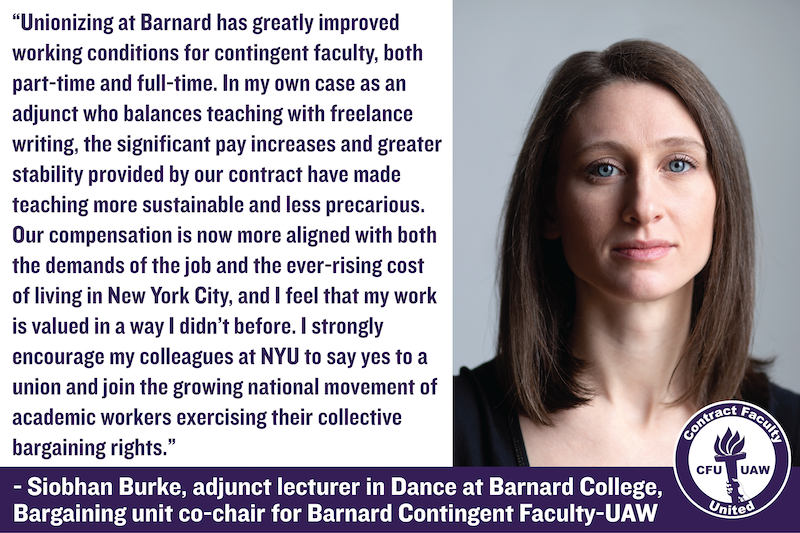 "Unionizing at Barnard has greatly improved working conditions for contingent faculty, both part-time and full-time. In my own case as an adjunct who balances teaching with freelance writing, the significant pay increases and greater stability provided by our contract have made teaching more sustainable and less precarious. Our compensation is now more aligned with both the demands of the job and the ever-rising cost of living in New York City, and I feel that my work is valued in a way I didn't before. I strongly encourage my colleagues at NYU to say yes to a union and join the growing national movement of academic workers exercising their collective bargaining rights."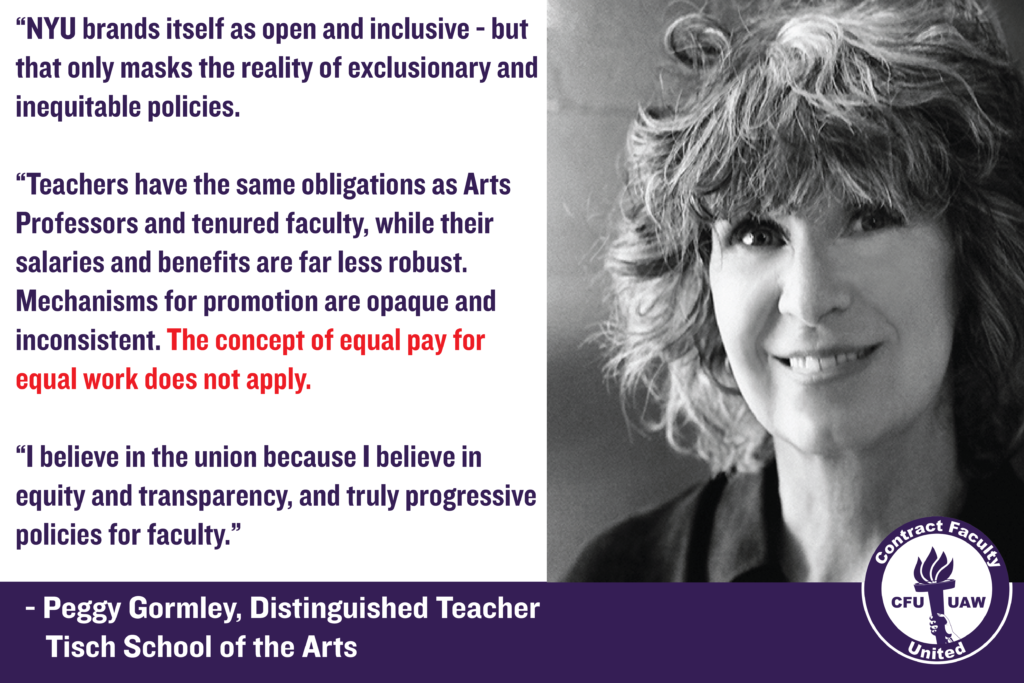 "NYU brands itself as open and inclusive – but that only masks the reality of exclusionary and inequitable policies. 
Teachers have the same obligations as Arts Professors and tenured faculty, while their salaries and benefits are far less robust. Mechanisms for promotion are opaque and inconsistent. The concept of equal pay for equal work does not apply. 
I believe in the union because I believe in equity and transparency, and truly progressive policies for faculty."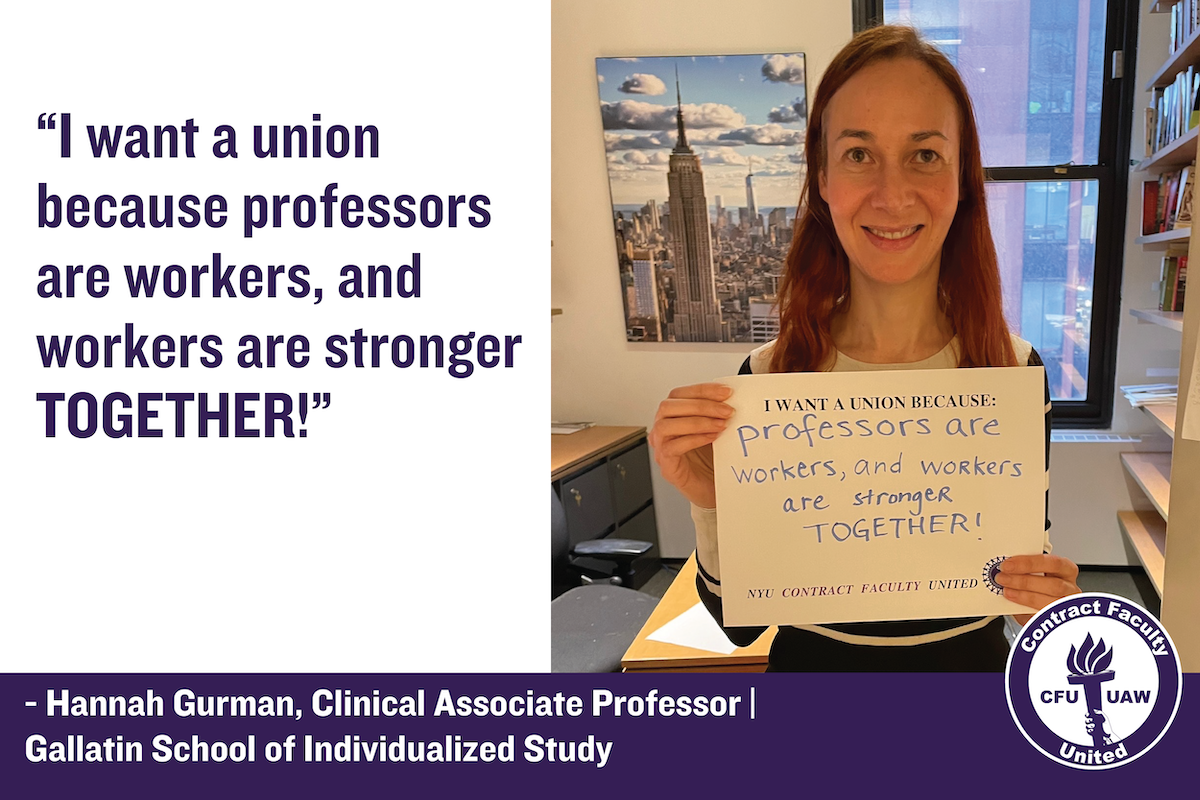 "I want a union because professors are workers, and workers are stronger TOGETHER!"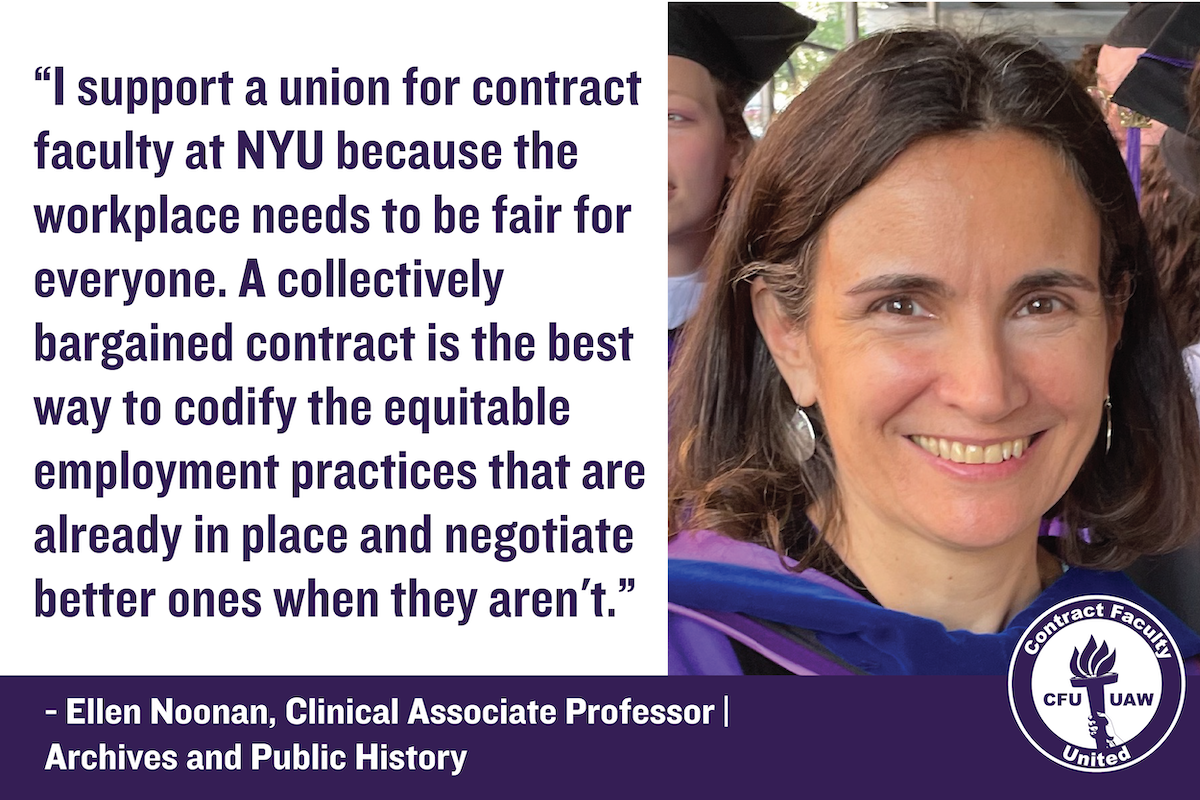 "I support a union for contract faculty at NYU because the workplace needs to be fair for everyone. A collectively bargained contract is the best way to codify the equitable employment practices that are already in place and negotiate better ones when they aren't."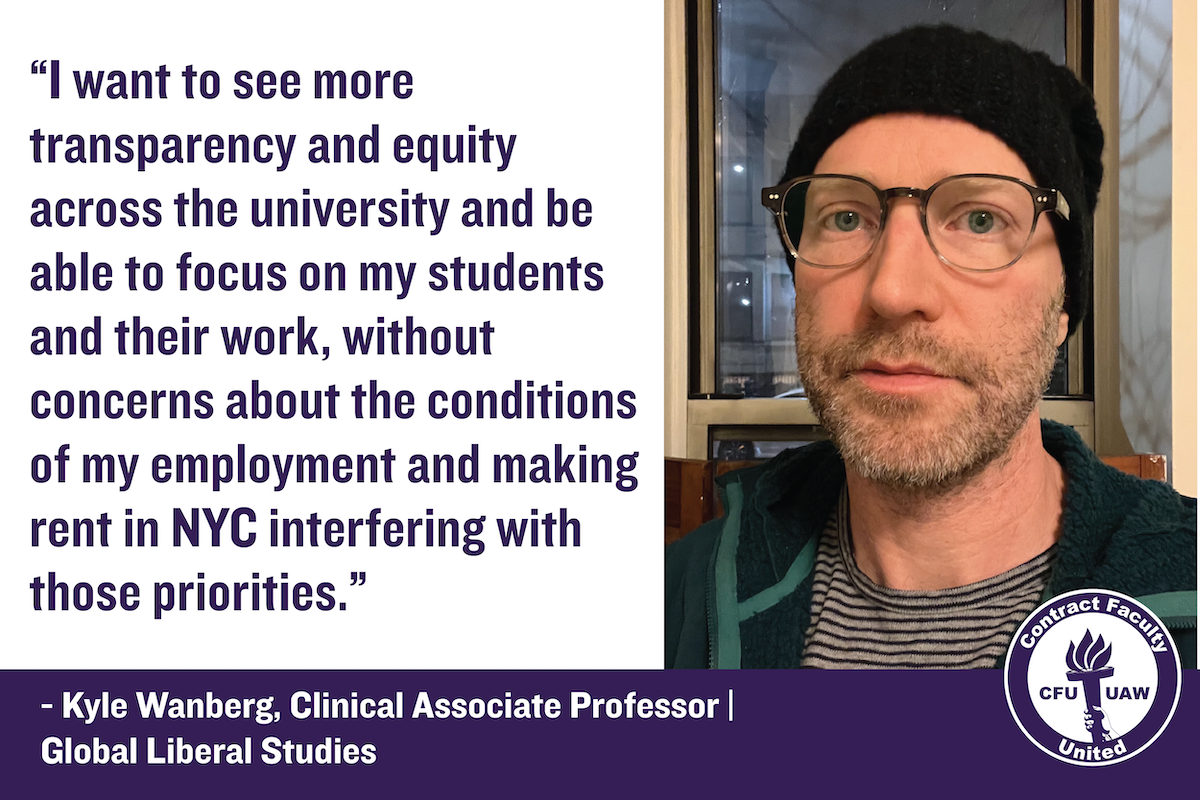 "I want to see more transparency and equity across the university and be able to focus on my students and their work, without concerns about the conditions of my employment and making rent in NYC interfering with those priorities."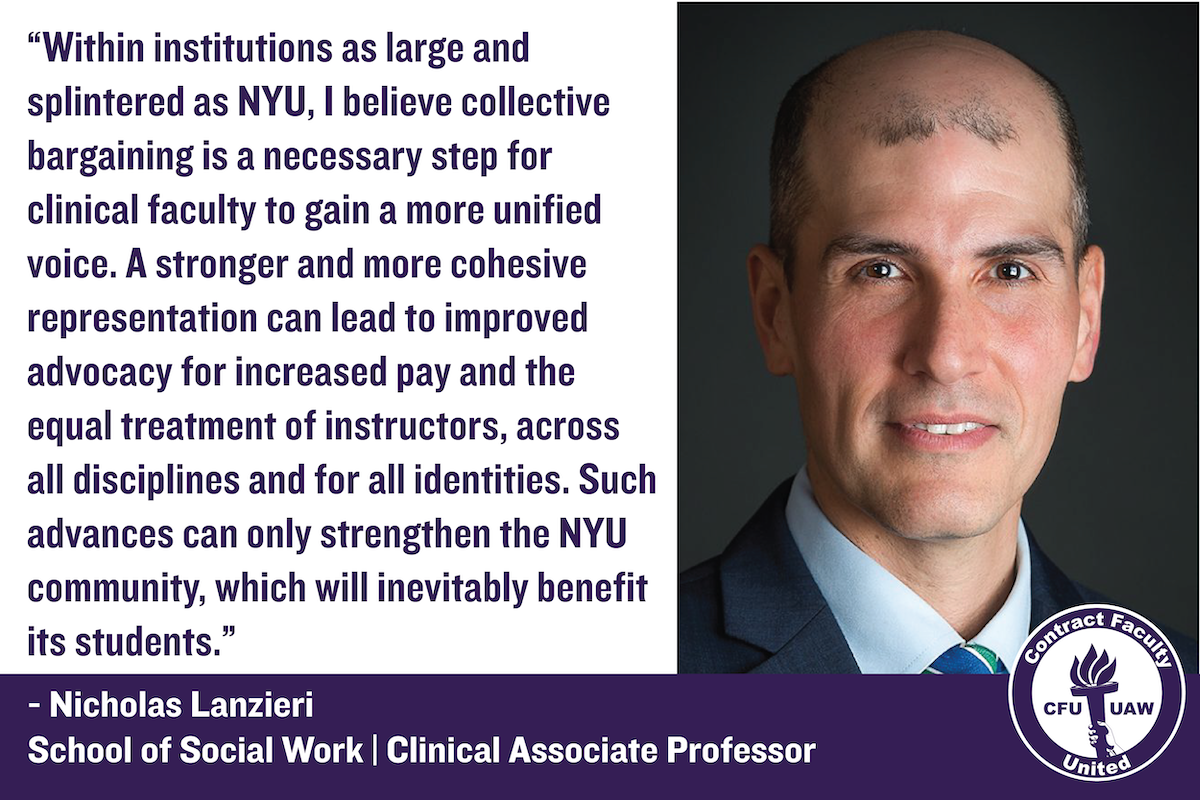 "Within institutions as large and splintered as NYU, I believe collective bargaining is a necessary step for clinical faculty to gain a more unified voice. A stronger and more cohesive representation can lead to improved advocacy for increased pay and the equal treatment of instructors, across all disciplines and for all identities. Such advances can only strengthen the NYU community, which will inevitably benefit its students."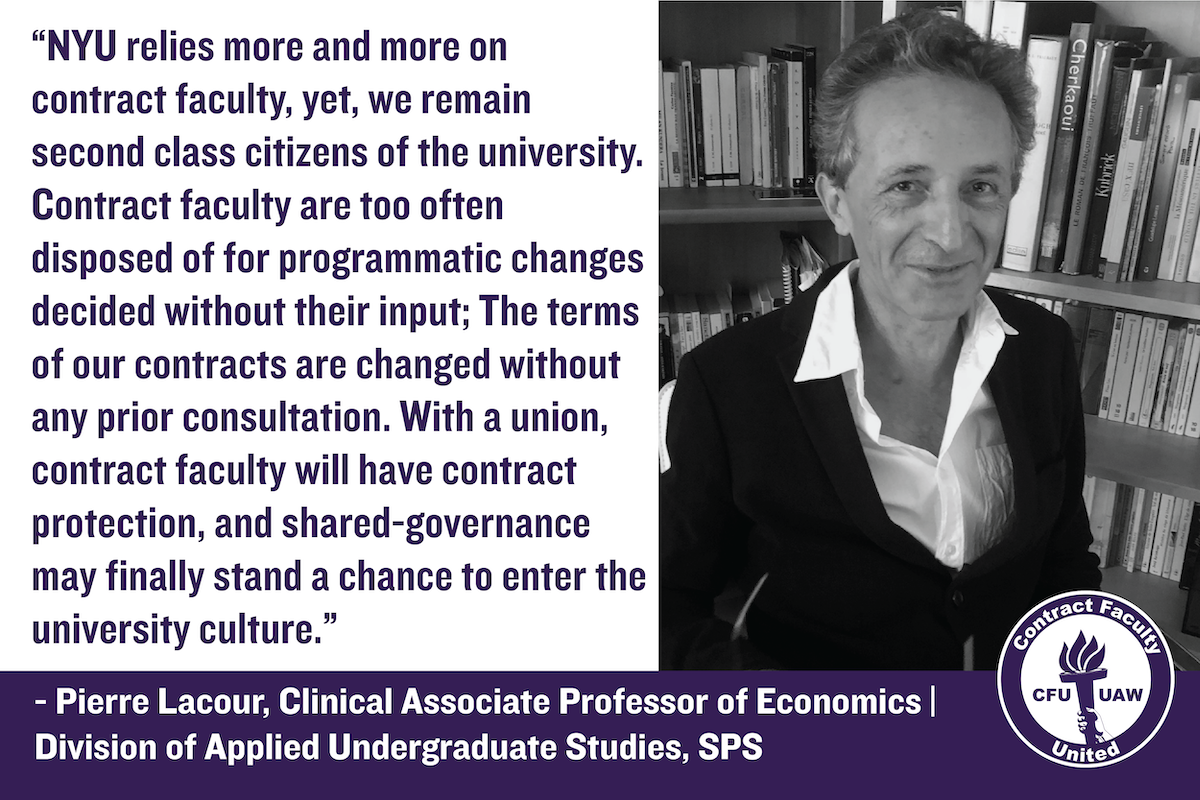 "NYU relies more and more on contract faculty, yet, we remain second class citizens of the university. Contract faculty are too often disposed of for programmatic changes decided without their input; The terms of our contracts are changed without any prior consultation. With a union, contract faculty will have contract protection, and shared-governance may finally stand a chance to enter the university culture."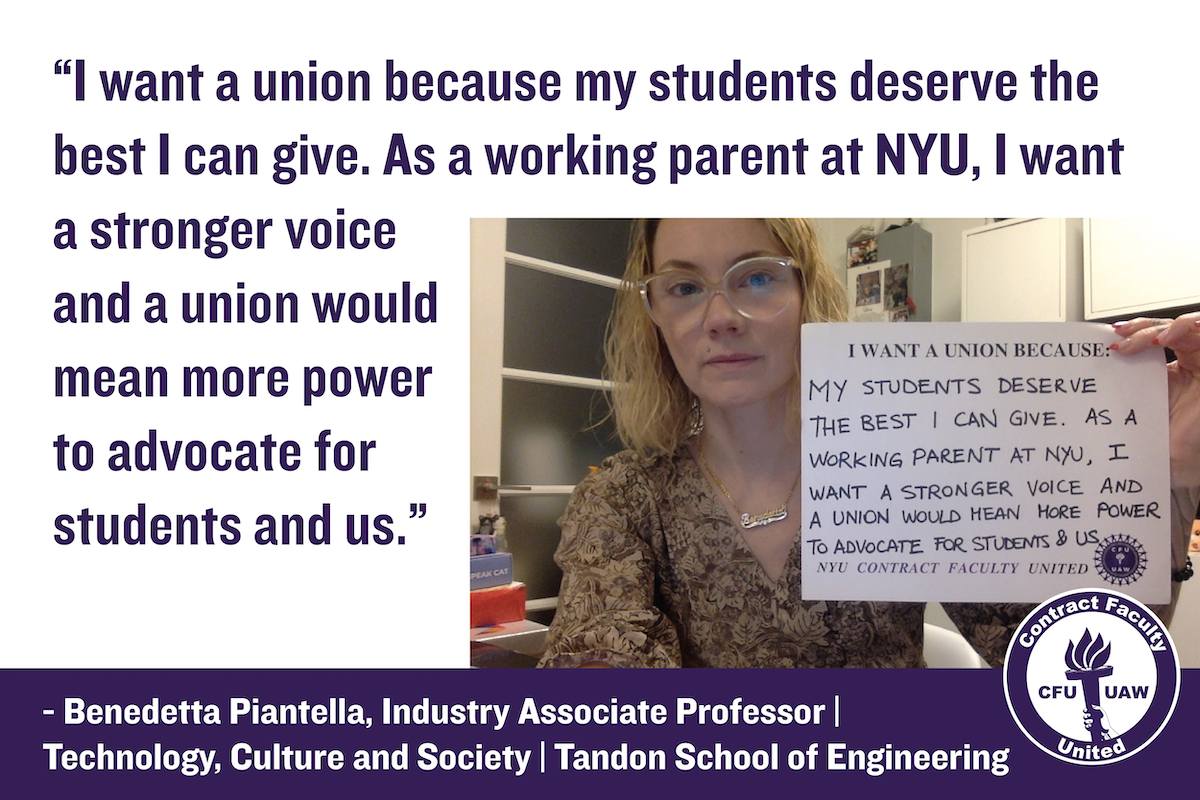 "I want a union because my students deserve the best I can give. As a working parent at NYU, I want a stronger voice and a union would mean more power to advocate for students and us."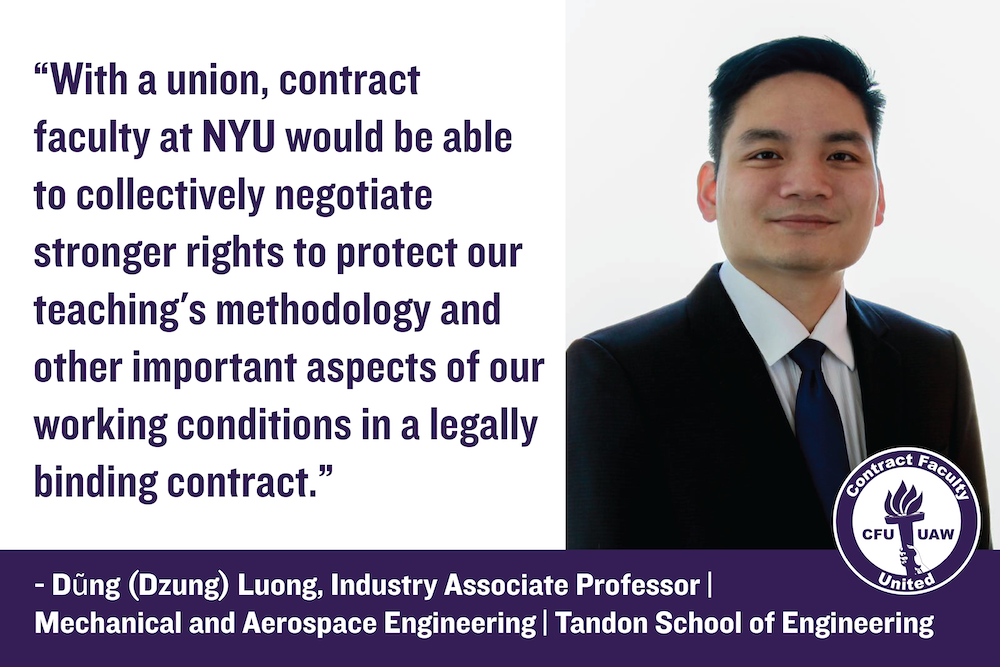 "With a union, contract faculty at NYU would be able to collectively negotiate stronger rights to protect our teaching's methodology and other important aspects of our working conditions in a legally binding contract."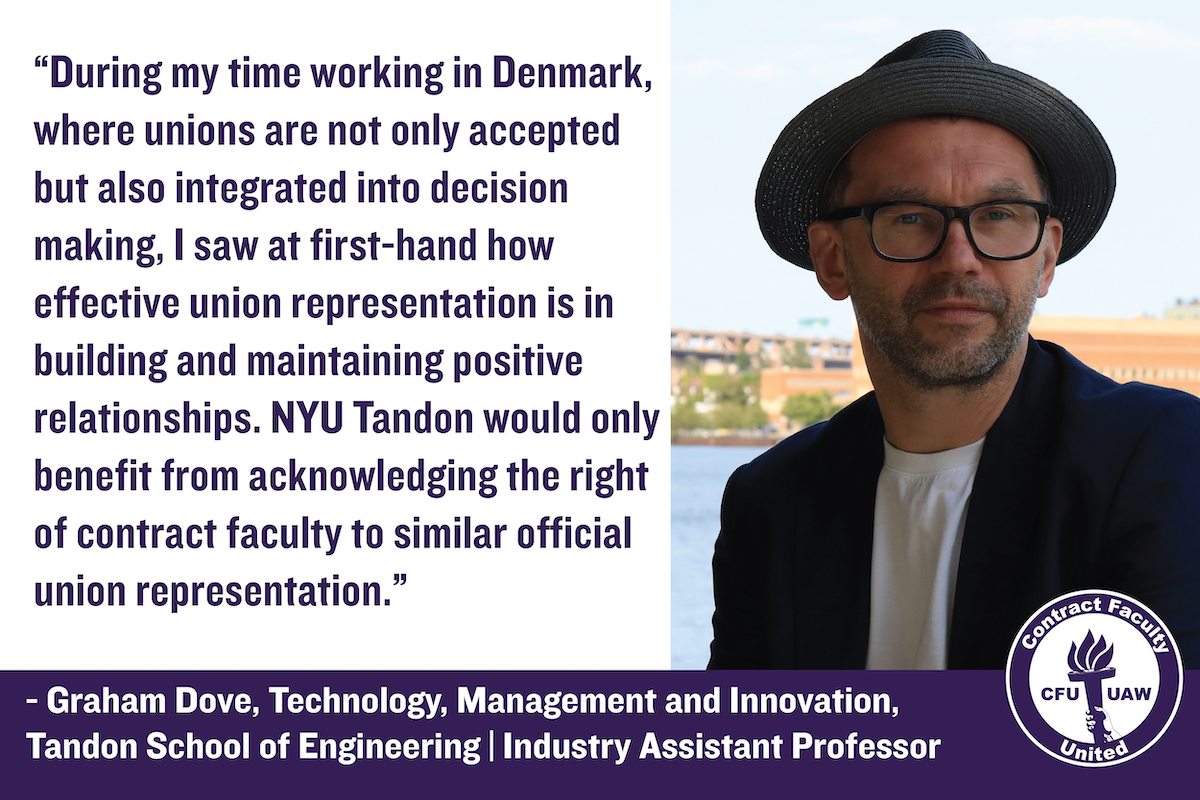 "During my time working in Denmark, where unions are not only accepted but also integrated into decision making, I saw at first-hand how effective union representation is in building and maintaining positive relationships. NYU Tandon would only benefit from acknowledging the right of contract faculty to similar official union representation."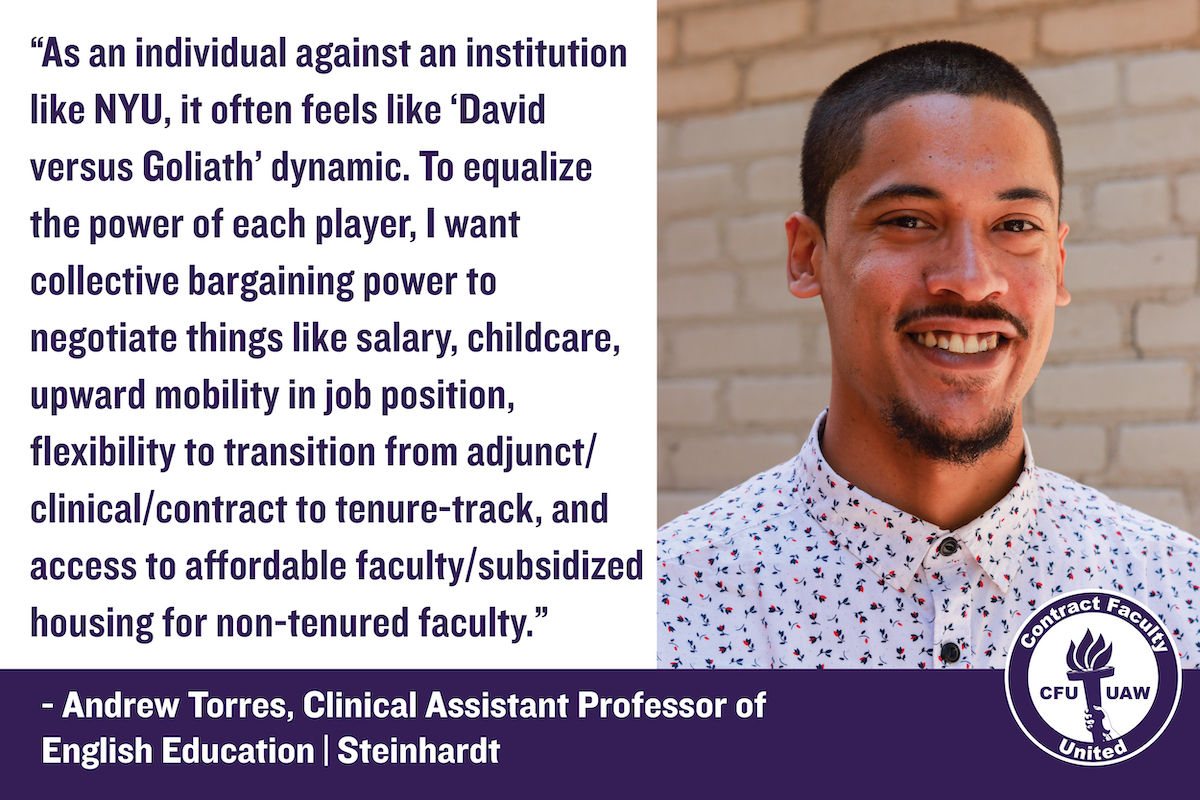 "As an individual against an institution like NYU it feels like 'David versus Goliath' dynamics. To level the playing field, and the power of each player, I want realistic, critical collective bargaining power to negotiate salary, childcare, upward mobility in job position, transition from adjunct/clinical/contract to tenure-track, and faculty/subsidized housing for non-tenured faculty."