Last week, contract faculty from across NYU met with the administration, as we continue to seek an agreement on our appropriate bargaining unit, and on a fair election process.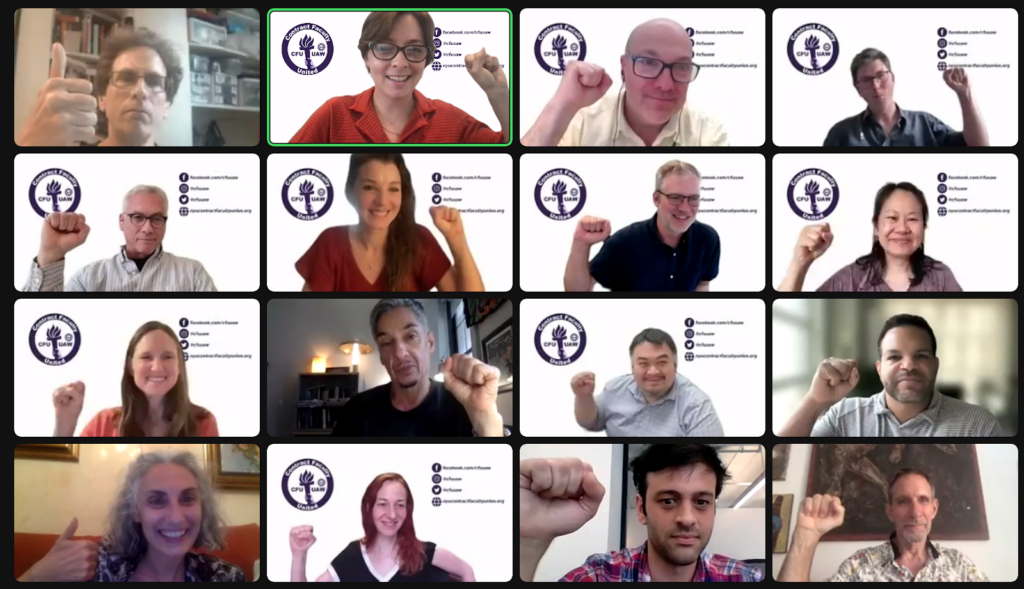 While we've made progress since demonstrating majority support last spring, the administration is still attempting to deny many contract faculty the right to choose collective bargaining by voting in a union election. Their current proposal would exclude:
Contract faculty in the Rory Meyers College of Nursing.

They claim that Meyers clinical professors have substantially different jobs than the rest of us. We know that our colleagues in Nursing are doing the same work as everyone else. 

Contract faculty in service roles across NYU.

When service to the university requires us to step into temporary leadership positions in our programs and departments, they claim that we become members of the NYU administration. We know that rotating into a directorship isn't like being appointed dean or vice provost or chair — it's agreeing to take on necessary additional work without much additional pay.
Last week, we spoke directly to our experience as contract faculty doing critical service work, and we hope that the NYU administration's lawyers found our testimony clarifying. Over the past few months, they've conceded that many of the exclusions they initially proposed were misguided, and we're eager to continue moving towards a fair union election for all NYU contract faculty.
We've had success in these meetings because we've used our knowledge as individual union members to build collective power, and to show the administration that we have broad support and high participation across NYU schools. If we continue to bring new contract faculty into organizing, we can ensure a fair election and win our union.
Crafting a winning strategy will be the fruit of our coming together to make decisions democratically. We encourage you to join our upcoming Planning Assembly, Weds. August 9th from 2:30 – 3:30 pm on Zoom. This meeting is open to all CFU members, so we can discuss our progress to date and make decisions about next steps. RSVP by replying to this email, and an organizer will follow up with meeting info.
Scott Fitzgerald, Industry Associate Professor and Director of Integrated Design and Media, Department of Technology, Culture, and Society (Tandon School of Engineering)
Hannah Gurman, Clinical Associate Professor and Co-Director of the Graduate Program (Gallatin School of Individualized Study)
Jeremy Nelson, Associate Arts Professor, Co-Director of the Second Avenue Dance Company and Associate Chair, Department of Dance (Tisch School of the Arts)
Heather Woodley, Clinical Associate Professor and Director of Childhood Education, Department of Teaching & Learning (Steinhardt School of Culture, Education, and Human Development)