UPDATE – We met with NYU's legal team, now it's time to take action!
I hope you've had a restful break — I haven't, really, but I'm feeling pretty energized! My name is Elisabeth, and I've been organizing with our union for a long time. This week, we took a big step forward. I'm writing to ask that you join me in returning to campus on Monday, March 20, ready to take action.
Nearly a month ago, we delivered our petition asking the NYU administration to agree to a fair and expeditious process for verifying our union's majority support. On Friday, March 10, as campus emptied out, they finally got in touch about a meeting. This Monday, March 13, we heard from two of NYU's lawyers, Daniel Saperstein and Sandi Dubin. They proposed a meeting time — smack in the middle of Spring Break.
I suspect they were hoping we'd ask to postpone. When we replied that over twenty contract faculty from across NYU schools would be happy to join them, they may have felt a little outnumbered, because they added a few more guests: Matthew Varughese (another lawyer) and NYU Vice Provost Kris Day. 
Our contract faculty delegation opened by asking the same question that over 500 of us have been asking since we dropped off our petition on the twelfth floor of Bobst last month: Will the NYU administration respect our democratic right to collectively bargain and agree to a fair and expeditious process for verifying majority support of our union, Contract Faculty United – UAW?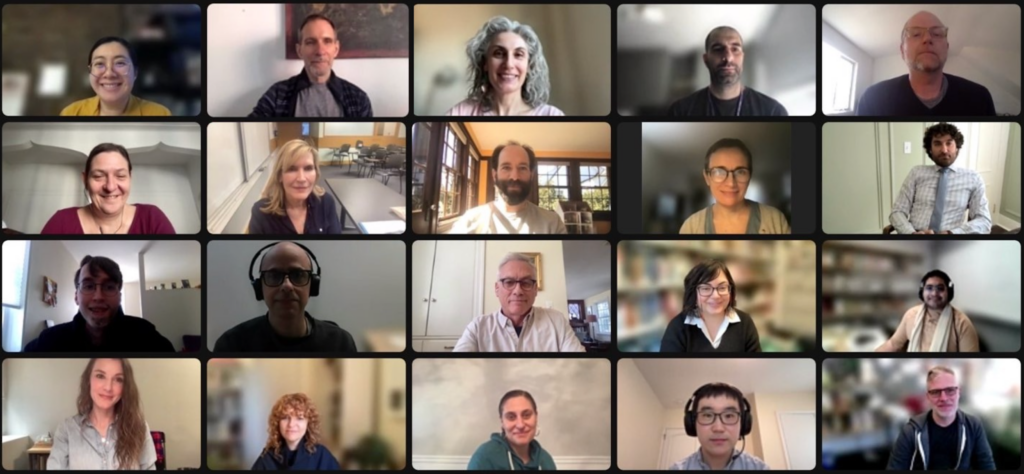 Rather than answering, Sandi Dubin had a question for us: Who would be included in our union?
We replied as we have consistently: all full-time continuing contract faculty employed in schools across NYU's Manhattan and Brooklyn campuses, with the exception of the Schools of Law, Dentistry, and Medicine — the same basic footprint as ACT-UAW, the adjunct faculty union. We reminded her that a majority of contract faculty in this grouping have supported forming a union since 2020.
Sandi thanked us for clarifying. She said she would take our answer back to the decision-makers and let us know about next steps at some point in the future. As far as she was concerned, the meeting was over.
Over the next twenty minutes, contract faculty from across disciplines and NYU schools spoke up and urged Sandi to answer our original question. When she demurred, we pressed: When could we expect to hear from the decision-makers? Could the decision-makers join future meetings? Were there other points we could clarify now, to move this along? Had they failed to notice that we were asking for a fair and expeditious process? 
Faced with these questions and others, Sandi committed only to following up with a more precise estimate of when NYU leadership plans to answer our question.
To recap: we agreed to meet with the NYU administration on short notice, over Spring Break, hoping for a substantive response to a petition signed by a clear majority of NYU contract faculty — instead, we got a meeting that could have been an email.
Crucially, we didn't get a "no." Even though I was frustrated by Sandi's insultingly obvious stall tactics, I left the meeting feeling really hopeful. If you followed the recent contract campaigns of NYU's unionized part-time faculty (ACT-UAW) and grad workers (GSOC-UAW), you know that the NYU administration's first move is almost always stalling. They've got deep pockets and a lot of lawyers, which means they'll always try to drag things out, even when they're unlikely to prevail in the long run.  
As NYC Comptroller Brad Lander emphasized when he spoke at our rally before the break, we're asking for something so basic that it should be a foregone conclusion: "You should not have to bargain or organize or rally to demand a fair, neutral, non-interfered process!" In our first meeting with NYU's team, we made clear that contract faculty aren't going to passively accept the NYU administration's attempts to stonewall and dismiss us, and we were effective. Sandi followed up yesterday, as promised, to say that we can expect a substantive response from NYU leadership next week.
Now is the time to take action. If we can keep up the pressure, we'll be in an even stronger position. When we come back from Spring Break, will you join me and commit to building our union?
NYU contract faculty have been organizing since 2017, and a majority of us have been signed up in support of Contract Faculty United since 2020. We've waited long enough for NYU leadership to respect our democratic decision to come together and form a union. Next week, let's take action and show them that we're ready to win.
In solidarity,
Elisabeth Fay
Clinical Associate Professor, FAS