Save the dates for our week of action after Spring Break!
We're still waiting.
Andrew Hamilton said he needed some extra time to decide if he was going to do the right thing and agree to a fair process to recognize our union quickly. We're now in the middle of the seven-to-ten days he said he needed–which means, of course, that his answer will arrive just in time for campus to empty out for spring break.
We're still hopeful that Andy will do the right thing, but no matter what, we know we need to hit the ground running when we come back from break. We'll need to show the NYU administration that we're united and powerful and committed to building our union no matter what they say.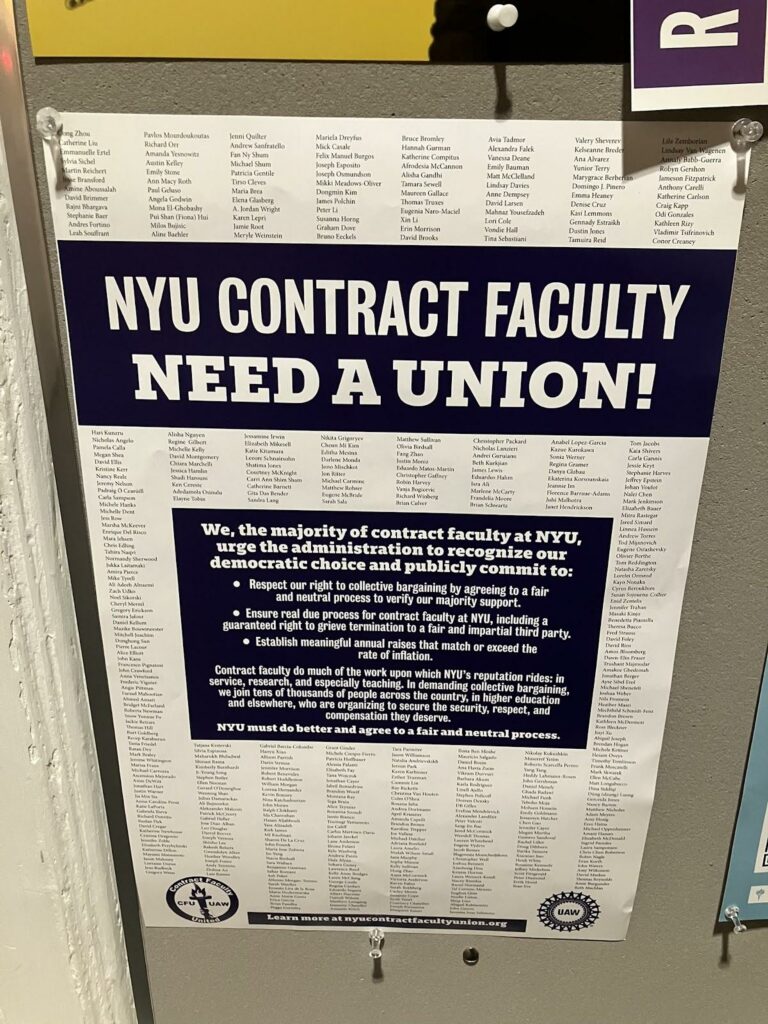 All week, we'll all be wearing CFU buttons to work to show our colleagues and our students that we need a union. Will you commit to wearing a button each day the week after Spring Break?
For the same purpose–demonstrating the broad base of support for our union–we'll be putting up posters with our petition around campus, both on common bulletin boards and on our office doors. Will you commit to putting a poster on your office door?
How will we get buttons and posters to everyone who needs one? Well, that's where you come in too. Volunteer now to take responsibility for distributing buttons and posters to colleagues in your school or department.
In addition to wearing buttons and hanging posters to demonstrate our support for our union, we have two events planned. Mark your calendars now and plan to join us:
On Thursday, March 23, at 2pm, join us for an informational picket of Bobst Library. In an informational picket, we don't ask people not to cross the picket line–it isn't a strike–but it's a way of demonstrating our strength and making sure that everyone who goes into Bobst knows that NYU contract faculty need a union.
On Friday, March 24 from 11:30 to 1:00, join us for the annual Triangle Fire Memorial Commemoration at Greene Street and Washington Place. On March 25, 1911, 146 workers, mostly young immigrant women, perished when the shirtwaist factory where they worked caught fire and, due to employer malfeasance, they could not escape the flames and smoke. The building where these 146 workers died is now known as the Brown Building, and today it is a workplace for us and other NYU workers. Every year on or near the anniversary, the New York City labor movement joins together for a somber memorial, where we read the names of the victims, lay flowers for them, and hear about current labor struggles. A CFU representative will add our voice to this year's remembrance. As current workers in the Brown Building, we should be a strong presence at the commemoration–it's only right. 
Mark your calendar now for these two events, and plan to wear a button the whole week.